Tiger's mouth
在原有呈"小尖"形二子的基础上,再向另一边尖一着,使三子呈现一"品"字形状的走法。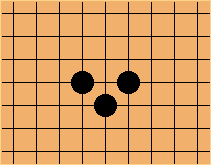 This is the reference form of a tiger's mouth. In this form it resembles the mouth of a tiger, yet all symmetrical representations are also thus labeled. The shape is also called tiger shape.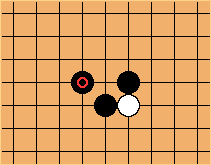 The tiger's mouth is most often used to make a connection known as a hanging connection. The marked stone is the hanging part. The other two stones block off a white stone.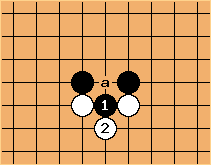 Pushing through with

is also called a tiger's mouth. After

, Black will connect at a.
---
Further reading
---
Tiger's Mouth is also the name of a website for kids and teens set up by the American Go Foundation.