Snapback
A snapback (or snap-back[1]) is the position created by playing a single stone with the intent of being captured because the reply to the capture is a larger capture. 所谓"倒扑"就是把自己的棋子送入对方虎口,通过牺牲自己来吃掉对方更多棋子的方法。
Introduction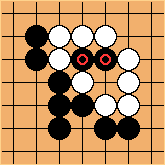 The

stones are caught in snapback, a tactical situation beginners will learn to recognize early in their study.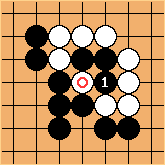 Black can capture

with

. (In practice, he would never do this except possibly as a ko threat.)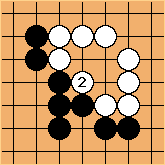 can immediately capture the three Black stones.
Setting up a snapback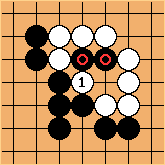 It's common for a throw-in to be used to create a snapback position.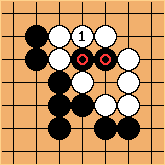 But it could just as easily be created by a move such as

here.
More applications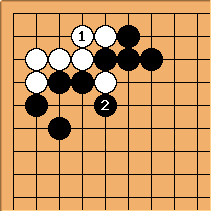 Threatening to capture stones in a snapback (or threatening to threaten to) can be powerful, as seen in this joseki. This diagram shows the result of a common joseki (for the 4473 enclosure) where White invaded at the 3-3 point under Black's 4-4 point.

can hardly be omitted.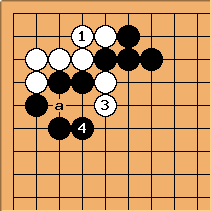 If Black tenukis,

threatens to play at

, which would threaten a snapback, forcing Black to connect cravenly at a. Thus, it is best for Black to play at

himself, creating a bamboo joint shape. But now White can move out with his cutting stones, starting a fight. (Of course, if Black is already strong on the top or left, playing tenuki might be possible and has been seen in professional games.)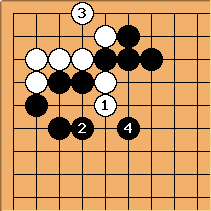 In some professional games, White has made the stand at

before living. In this situation too it is best for Black to play

, but now White will need to return to play

. Black may then surround at

, but the White stones retain troublesome potential.
---
See also
Notes
[1] The term is hyphenated in Tesuji by James Davies (1977 printing).