Chinese Fuseki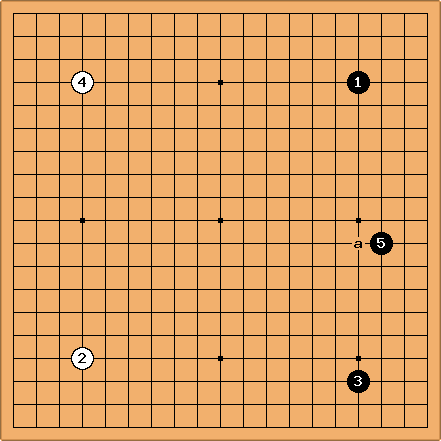 The Chinese opening or Chinese fuseki is the opening pattern that is characterized by the black moves



(or


a) in this diagram. Black is not enclosing the bottom right corner but playing on a somewhat larger scale. The idea behind the opening is that White at some time will be forced to invade somewhere in the framework that Black builds on the right, after which Black will use the attack on the white group to turn another part of it into territory.
There are two main variants, namely the low Chinese opening which is presented here, and the High Chinese Opening where

is played at a. The high variant is more influence-oriented, the low variant more territory-oriented.


More technical discussion
The Chinese fuseki has been very influential, leading to many further patterns being tried:
See High Concept Opening Myth for other opinions on the Chinese fuseki
History
The Chinese opening is so called because Chinese players were the first to use it regularly. But according to The Chinese Opening (by Kato Masao), the Chinese fuseki originated in Japan. (It has - wrongly - been claimed that the first person to play the Chinese fuseki was Kawai Tetsuyuki in 1966. See

this rec.games.go message.) Kato adds that the Chinese fuseki seems to have been introduced to Chinese players by Yasunaga Hajime.
Chen Zude played the Chinese fuseki a number of times in the 1963 and 1965 Japan-China Go Exchange. There are no less than six games by Chen Zude with that opening prior to 1966 on the GoGoD CD. But maybe we should attribute the invention to Guo Tisheng, who already played it in 1951, albeit with the white stones.
According to

this page (by Charles Matthews), the high Chinese was played by Harada Minoru in the 1961 Amateur Honinbo tournament. (Source was the Rin Fuseki Dictionary.)
Low Chinese Opening - study references
Charles Matthews on GoBase:

09

10

11

12

13

14

15

16

17
Josh Allen? 's

video lecture
Kato Masao 's "The Chinese Opening - The Sure-Win Strategy"
A Dictionary of Modern Fuseki - The Korean Style
Rin Kaiho 's "Dictionary of Basic Fuseki, vol. 2" p311 - 379.
High Chinese Opening - study references
Kato Masao 's "The Chinese Opening - The Sure-Win Strategy"
Rin Kaiho 's "Dictionary of Basic Fuseki, vol. 2" p380 - 460.