Variant 1-3-5s
A page for 1-3-5 formations based on a 3-4 point. By now just about all the Chinese-like formations one would normally come up with have been tried as experiments in pro games.
A page of further 1-3-5 variants covers formations of other kinds, not closely related to either of the Chinese fuseki or sanrensei.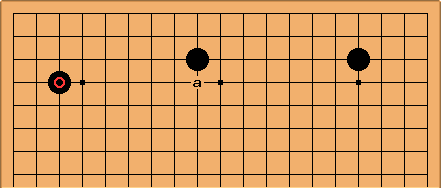 There are many examples of possible Chinese-like formations. Assume

in place: the other two stones can vary. This one was played by Kitani Minoru against Takagawa Kaku in 1959 (perhaps first seen when played by Doteki around 1680).
With the central stone at a this was played in a 1982 game Tian Xiaonong-Qian Yuping; and in 1995 by Ruan Yunsheng.
---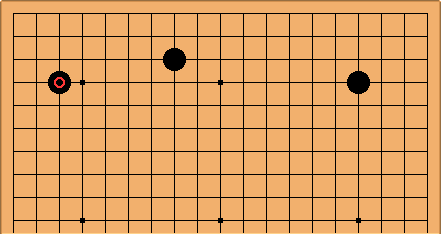 Moving the central stone one space to the left: this was tried several times by Ishida Yoshio.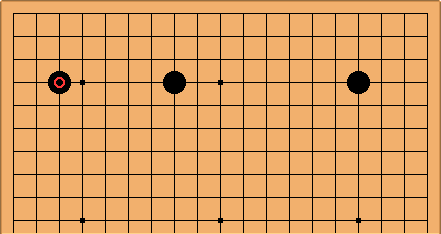 This has been tried out a couple of times by Kim Man-su; also played by O Meien and Pak Chi-hun.
---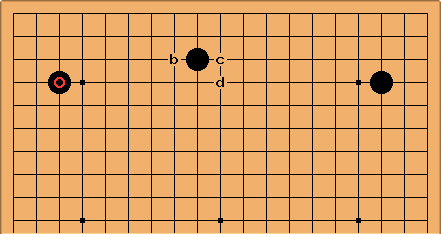 This one is an experiment of Hikosaka Naoto in 2000. With the central stone at b: Miyamoto Yoshihisa in 1996 (see

further discussion by Charles Matthews). At c: played by Hashimoto Shoji and Kato Masao. At d: Hashimoto Shoji, Abe Yoshiteru.
---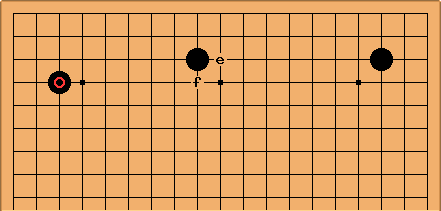 This formation has been tried by Chen Zude. Hashimoto Utaro and Sakata Eio.
Putting the central stone at e was an idea of Huang Yizhong in 2001. Hane Yasumasa had tried it at f in 1982.
---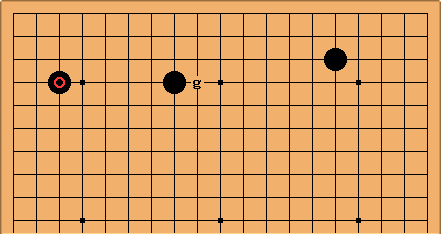 This was played by Hashimoto Yoshimi against Takemiya in 2000.
With the stone at g this was played by Ma Xiaochun in 1982.
---
The Manchurian fuseki pattern hasn't (yet) shown up in pro games.