pillbox (The Player)
About pillbox
I am an American go player living in Kansas. I learned the rules of Go in 2005, but only recently in 2008 have I really started my journey to becoming a strong amateur. I have been attending the local Go club, The Greater Kansas City Go Club, when I can. If you are in the Kansas City area, leave a comment or send me a message on KGS!
I also spend time in #go@Freenode
I appreciate all comments
---
Books
I have purchased and read the following books:
---
Books to Buy
these books were recommended to me from various sources
---
Study list
pages that I intend to study, here for my convenience...
In no particular order...
---
Thoughts
3-3 Invasion Point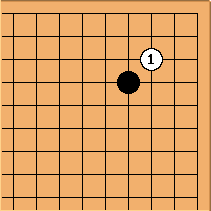 This particular invasion technique does not work well against me. I'm an expert at promptly losing the corner and forfeiting any opportunity to make a base along either side. When played against me, I will test the limits of just how much sente you can handle.
Uberdude: What on earth are you talking about?! The 3-3 invasion is sometimes a great move, irrespective of who the black player is. What does "how much sente you can handle" mean? Remember that a move being sente does not mean it is a good move.
pillbox: Well, I was sarcastically lamenting about how I continue to react poorly to the 3-3 invasion in the games that I play. Currently, it is one of my goals to be able to defend against this particular invasion with full awareness of the rhyme and reason to the moves involved. As for the sente comment, when dealing with this (and most other) invasions, I tend to leave a lot of cutting points undefended due to being overly concerned about keeping the initiative. As soon as my opponent starts to attack my weak points, I will typically be pushed around for the rest of the corner fight. The comment reflects that my opponent will often be given a wide selection of plays that will force me to respond, afterwards leaving me with poor shape that requires me to take extra time to fix further weak points.
Uberdude: Take a look at the standard sequence for ths 3-3 invasion here 3-3 Point Invasion Diag2. Notice that black takes gote to defend his cut as this makes his wall nice and strong with good shape.
pillbox: Indeed, that appears to be what I should be attempting to do. Although, I think when it comes time to act, I tend to get scared (being ever doubtful of my skill) and just run away instead. Thank you for your input, I look forward to trying this defense as soon as possible!
4-4 Point Low Approach Low Extension Joseki
I tend to run into this a lot, as currently all the games I play at my local club involve me taking between 3 and 9 handicap stones.
Sources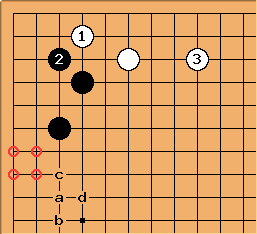 pillbox: After

, I am to understand that Black should tenuki (I think, it doesn't mention it clearly on the standard joseki page.) However; nobody makes mention to an extension to a, b, c, or d. Are any of these moves reasonable? I tend to play a often immediately after

, and I think I see it often in other games that I watch, though maybe not immediately. Is there a page on SL for this line of thinking?
Herman Hiddema: Usually, in this phase (the opening), a play around a is slow and may be overconcentrated. A move here only gains about 4-6 points (marked). As always however, it depends on surroundings, if there is another good reason to play this move, it may be a good idea, see next diagram...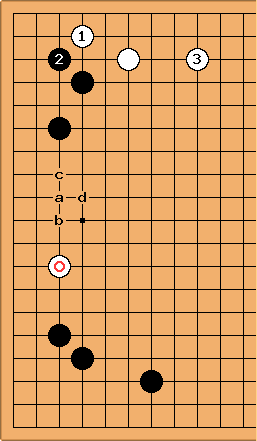 Herman Hiddema: In this hypothetical situation, with the marked

stone in place, a can be an excellent move for black. It denies white the option to make a base. As such, it is a dual purpose play, making points while attacking.
pillbox: Thanks for your comments, Herman. I also received some input from the folks at #go@Freenode, where I am a regular (pest). They indicate that in an opening sequence, playing a or nearby is slow and there will almost invariably be a bigger play elsewhere. But your comment surely helps my understanding of when to play the extension.
4-4 Low Approach Low Extension Attachment?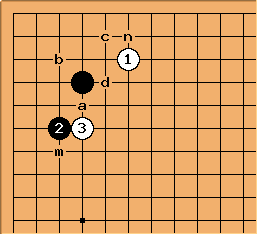 pillbox: This has happened to me a couple times this week, and it's obviously not in the joseki dictionary here on SL. I have played a in response, though looking at it now, I'm not certain how strong of a play it is. I've considered b, c, and d as well. I think b would give up the left side and then Black would have a chance to take the corner and kill

to steal the top side. d cuts the bold move by cutting, but does White have a trick waiting? c would be settling for just the corner with a followup to live on the side m or n.
LukeNine45: I would play m and be happy.

-black m is not a good exchange for white.
---
Subpages...
---
[1] pillb0x@KGS is now deprecated in favor of pillbox