Taisha Joseki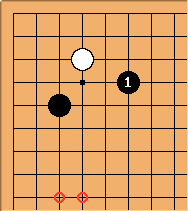 The taisha (大斜, lit. "great slant") joseki, starting with

in the diagram, is a famous 3-5 point pattern known as the "joseki of hundreds of variations" (大斜百変) and is commonly regarded as one of the most difficult joseki. Even professionals sometimes make mistakes in this joseki; it is the source of numerous hamete, and new variations are found on regular basis.
Standard pattern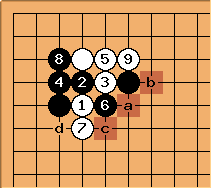 through

is the standard variation of the taisha. According to Ishida, Black can now choose between a, b, c and d. Each of these, in turn, can lead to 5 or 6 other variations, and so on...
(Incidentally, there are no pro games with d.)
Pincer implications
The pages referenced above discuss the taisha when it arises in 3-5 point joseki. Note also, however, that the taisha can arise in 3-4 point joseki as well. In that case,

can follow a white three-space pincer at one of the circled points. See the following pages for further discussion of pincer variations.
Other variations
Some implications and musings
You could call the above the taisha proper. When people speak about avoiding the taisha, they mean not having to play this position from the side of White.
Bear in mind that all these variations need favourable ladders at every possible place.
Very often the taisha is used to start right away a colossal fight that would spread all over the board. If you don't feel like going for complications and blood-thirsty fights, you still have many ways to avoid the Taisha!
In the 1980s such early ramification was seen as bad, because it settled the shape of the game too much, taking the beauty of subtlety away from Go: at that time complicated joseki like Taisha (or even the Nadare Joseki) were therefore seldom played. Today it is just the opposite: the simplification of the game is seen positively, because it skips the difficulties of the chuban (middle game) and brings the game directly to the yose (endgame) stage, where it is easier to perform calculations. These considerations affect where Go is going. In fact, today the Nadare Joseki is very popular but the Taisha is still seldom played. Maybe because the 5-3 opening move is unusual in modern go?
johnf "the Taisha is still seldom played" is a strange thing to say when the GoGoD database already has 8 examples from last month (August 2015) alone. And beyond that it has been very popular for many years.
Bob McGuigan: It doesn't need a 5-3 opening for the taisha to be played. It can arise as a response to a three space pincer.
OscarBear?: What is the comparative popularity of the various large scale joseki? Is Taisha less popular than the Avalanche or the Magic Sword?