3-4 point low approach three-space high pincer taisha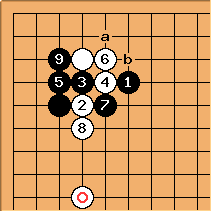 After

, White's options include the descent of a and the push of b.
See "Descent variations" and "Push variations" below.
Descent variations
Nie Weiping on Go recommends the following as one possible variation.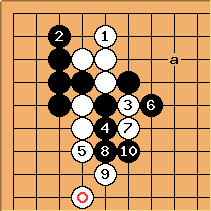 In contrast to a low pincer variation given above, White cuts with

rather than playing at a.


White achieves nice shape with

and

.
Charles This line was out of fashion after 1981; it occurred in the fourth game of the 53rd Honinbo match 1998-06-22. But there / was omitted (Black just played at ).
White finishes with a.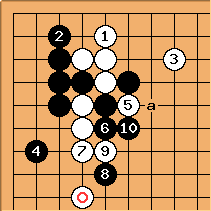 A different variation is given in Whole Board Thinking In Joseki when White has made a three-space high pincer.
Charles The jump out isn't common
By the way, going back to

here makes it harder (for me) to see where the variation branches.


In contrast to Nie Weiping's variation, White jumps out to

before cutting with

.

induces

which induces

.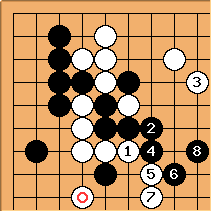 Charles What seems to be prevalent in current pro games is the Yang Yilun idea, but immediately.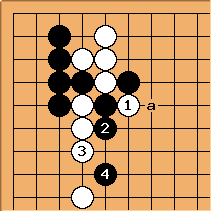 Here

and

both look like inducing moves.

at a ( the Nie Weiping play above) is another, different type of inducing play.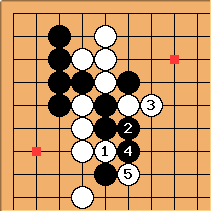 So, it looks like White anticipates

of the previous diagram, and reckons that, if we get to here, the exchange of the stones on the square-marked points isn't worth it.
Push variations
Ishida's Joseki Dictionary does not have a taisha descent variation for the three-space high pincer. Instead, the normal "push" variation is given.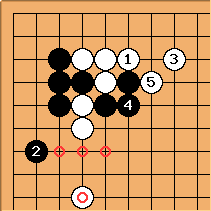 Charles There is no settled variation for

: White also plays for shape at one of the circled points.
---
Page author: Snotnose