Yang Dingxin
(杨鼎新) Chinese player born 1998-10-19, obtained the promotion to 1 dan at 9 years, 9 months in 2008-07-24. Promoted 2 dan in 2010-07-20. Promoted to 9 dan for winning 23rd LG cup on 2019-02-14.
In 2010 he qualified for the semi-final of the Quzhou-Lanke Cup (the richest Chinese title), defeating Wang Yao, Chen Yaoye Tianyuan, then Li Zhe.
Winner in 2011 of the 5th Xinxiu
Winner in 2016 of the 15th Xinan Wang
Winner in 2019 of the 23rd LG Cup, his first international title and earning him promotion to 9 dan
Runner up in 2019 in the 24th Samsung Cup
Runner up in 2021 in the 35th Tianyuan
In 2012 and 2013 he won the China Weiqi League, as member of the Team Chongqing.
In 2019, he pulled off an exceptional winning streak in the 21st Nongshim Cup. From 2019-10-16 to 2019-11-25, he beat seven consecutive Korean and Japanese players: Won Sungjin, Yamashita Keigo, Kim Jiseok, Ichiriki Ryo, Lee Donghoon, Kyo Kagen and even Shin Jinseo, only being stopped by Iyama Yuta.
Photo and

profile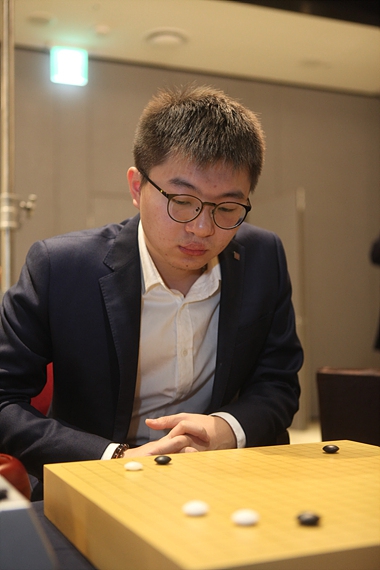 Yang Dingxin in November 2018