Placement
A placement is a play inside the opponent's group, mostly but not necessarily on a vital point, weakening the group.
A placement is disconnected from one's existing stones from one's group; to succeed it should be difficult to defend against. It's more of a tesuji than a speculative invasion.
Example of an unsettling placement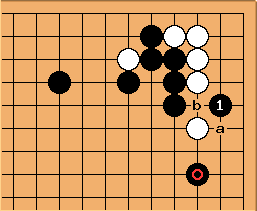 Black has approached White's corner with

. If White does not respond, Black can play the placement of

, after which Black can connect out, either at a or at b, turning White either into a drifting group or small life in the corner.
---
Example of a killing placement
Here's an example of a placement in a life and death situation:
White is dead due to bent four in the corner.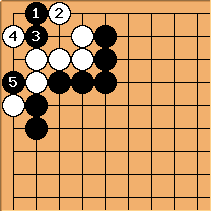 makes the second eye false and kills the entire group.


In this context we will rather speak of the vital point of the group, or of nakade.
---
See also