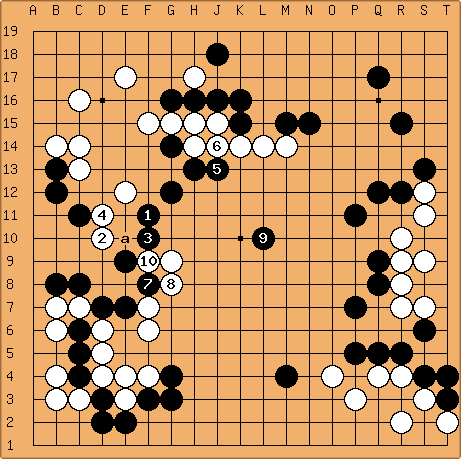 JoeSeki

Black 99 looks very good to me. Assuming black is in no trouble on the left. I'm gonna push here a bit and see what happens. If Black is thin on the left, then I think Black 99 took the whole board into consideration. He protects the upper right from a reduction, while protecting the right hand cuts a bit (it's harder for me to use the aji here) It also takes territory in the middle while helping the lower stones by making it harder for me to dive in deeper (if you start a running fight, I have no place to run now)
DJ

: I agree with you, I have hallucinated... :-(
This is the second really bad move after my AjiKeshi moves in the LR corner. And you're right too, I do not have time, I cannot play two moves in a row...
Let's change line of play.
JoeSeki

: I didn't like blacks choice of moves for 97. White can say atari and threaten to capture the

or cut off a large chunk by cutting at E10, so

didn't really do anything for you, it really just helped white put more stones in the middle. I still want to drive into your group to eliminate your eye spaces.

tries to accomplish too many things at once. I expected H11, which I think solves all your problems. Which if I think about it, you can just keep in your pocket an this group isn't in too much trouble anyway. Assuming your group is okay, I would think the proper thing to do would be to grab a bit more terriotory and safe up you other groups. Do you have the time?
DJ

: And I thought that my LS influence was one of my assets! I'll think twice...
I do not think the LS wall is cuttable, but it is true that many Kikashi can be played against it. Anyway, I've always believed that in case of running battles occurring, it was there to help my groups...
I do not know whether this move settles my dragon, but sure I will have to choose between a peaceful follow-up to it, or a chaotic fighting... Definitely it is time to count again.
Brace yourself!!! ;-)))
JoeSeki

: I liked blacks last move a lot, it creates eye shape in the middle which will mitigate the need for a running group. For that reason I thought I should ignore it and play in the middle instead, but then I have a runnin group, and your's is stronger then mine. So I'll settle it and let you settle yours. As for the other two groups I have my eyes on they are your right hand side stones which have a lot of cuts that have a lot of aji for me to exploit. I also have a nice move on the bottom to make your bottom black stones have only one eye and thus force them to run. It is my hope I gain more territory in this fights to come. I half expect to nab the single black stone at the bottom in the ensuing fights. But realisticly that's wishing and not reading.
DJ

: Uhm, you may be right, even if I don't consider this group that weak. I wonder which are the other two... unless you consider a group the solitary stone in m4.
Meanwhile, a little Kikashi.
JoeSeki

: AjiKeshi means I lost potential here, I think this is doing exactly what I want it to do. I think
is connected back to my white stones, and that you only have one eye for this group now. So I have the running battle I wanted. I don't think I have any weak groups now, but Black has 3 groups I can target.
DJ

: I think I am connected. Also a should connect, but maybe it gives you more forcing moves. It's difficult to decide...
And, if I am connected, wouldn't you think
could be considered AjiKeshi?
JoeSeki
: Is it connected really? This looks like an interesting spot to see what happens.
DJ

: Connection. It looks like a Dame point, doesn'it?
But maybe I have accomplished something: less weaknesses (hopefully), potential points on the TS...