Nose Tesuji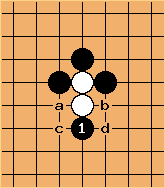 is the nose tesuji, also known as nose attachment, often overlooked by beginning players. It takes away one of White's three liberties, making miai of a and b. White may try to hane at c or d, but often the Black atari at a or b will be an effective response.
This tesuji is sometimes incorrectly referred to as a "head attachment".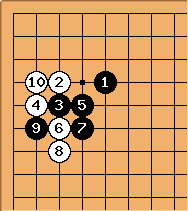 Consider this takamoku joseki.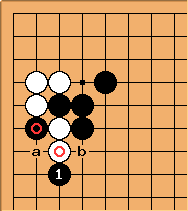 is the nose tesuji. If White a, Black seals her in from the top with b. If White b, Black pulls out

with a and White's stones are floating.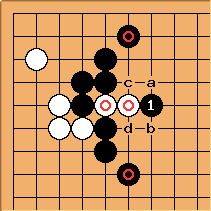 The nose tesuji works in conjunction with the surrounding stones. Consider this contrived example. The

stones make the nose tesuji effective, blocking White whether she tries to escape with c or d. If White a then Black c; if White b then Black d.
---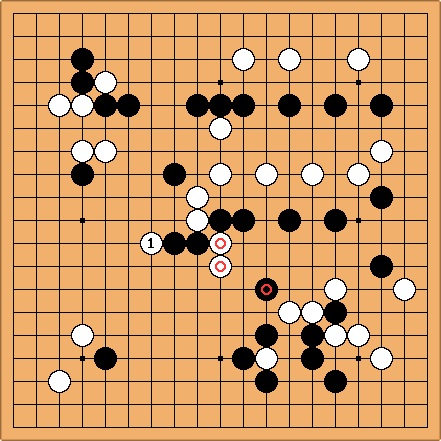 Sakata Eio-Yamabe Toshiro 1967-02-08, from the Meijin League.

, the nose tesuji, here functions as a kind of inducing move. Black's (Yamabe's) previous play was at

. Having cut in the centre, White's problem is how to handle the

cutting stones and the large weak group above at the same time.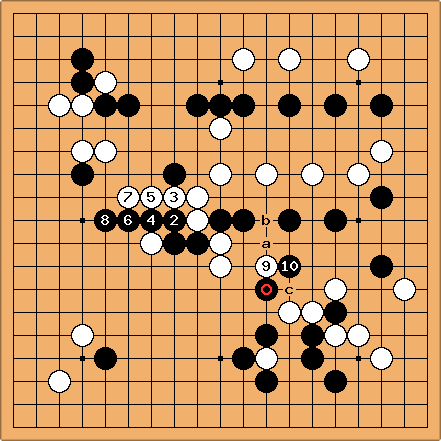 White does succeed in dealing with both areas of immediate concern. After Black 10 there followed White a, Black b, White c. At that point White had enough threats against Black 10 and the marked black stone to fight on, locally, and had isolated Black's group on the right side.
---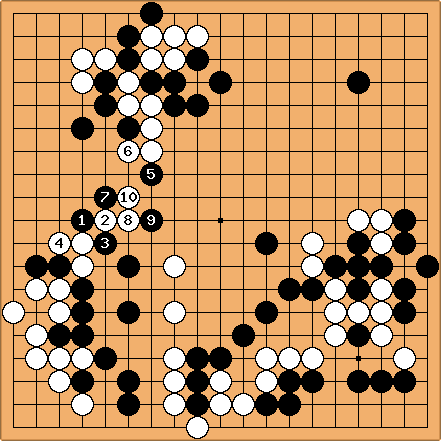 In the second game of the 5th Ing Cup on 2004-12-28, Chang Hao, playing Black, unleashed no fewer than three nose attachments in the course of nine moves (1, 5, and 9) in this game against Ch'oe Ch'eol-han.
---
In Golden Opportunities, the first problem is this: