FarmersHatQuestion/Discussion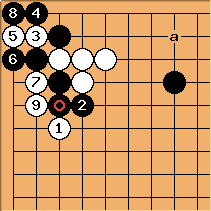 Charles The reason to hesitate over playing

. In some cases White might be aiming at the nose tesuji with

.

is then basic instinct, but White can fight back and the escape at a is still open.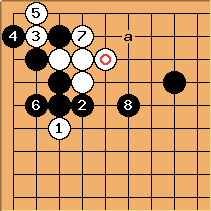 Bill: Through

White's bad shape with

remains, if not worsens, since it now forms two empty triangles. The exchange,

-

, doesn't look too good, either. Black may continue with

. Black aims at Ba.
(BTW, do the four Black stones including

and

form a farmer's hat? ;-))