Igo Hatsuyoron
Overview
Igo Hatsuyoron (囲碁 発陽論 Igo Hatsuyōron, literally "Generating Yang, Analysis") is a collection of 183 tsumego. It was written in 1713 by Dosetsu Inseki, the fourth head of the Inoue go school, and was designed for the training of the highest caliber students at the school. It was kept secret from all but a few of them, who studied the book under the direct supervision of the Inoue. (Obviously it was kept secret from the other go schools as well!)
In our modern times the text is available to the general public just like a lot of other books. It is not just another book though. Its level is extremely high, at professional standard really.
On Sensei's Library
All Igo Hatsuyo-ron Problems are available in Sensei's Library. For official solutions and scholarly comments you should consult one of the printed editions (or the online versions based on them).
Print Editions
English
Yutopian have published

volume 1, containing the first 63 problems and solutions.
Japanese
In Japan, four modern versions of this life and death classic have been published.
The first three versions contain 202 problems divided to six categories. The 1982 version, the most recent one, has only 183 problems. Suspect copy cat problems from Xuanxuan Qijing 玄玄棋经 have been removed after comparing the text with a considerably older private-edition woodcut-print book (荒木氏版本). In addition, the 1982 version contains 2 problems missing from the first 3 versions. As stated by the original author in the book's preface: "this book contains 180+ problems carefully selected from a set of 1,500 problems.". The 1982 version is believed to be a more reliable version of the book.
All four versions of the book share a common structure: the answer to the problem is brief, coupled with detailed explanation and in-depth commentary.
As is well known, this book is a professional level text to be used by professional players. It is not appropriate for amateur players. It is compulsory for professional players to master this book.
Chinese
September 1988 (reprinted in November 2003), a Chinese edition was published: 《围棋发阳论》新解,程晓流解说 Weiqi FaYangLun, New Annotations, Cheng Xiaoliu, editor containing 183 problems and an appendix of 21 additional problems for a total of 617 pages (ISBN: 7-80548-147-4). The book is one of a set of three entitled 世界围棋死活经典名着 (Shi4 jie4 Wei2 qi2 Si3 huo2 Jing1 dian3 Ming2 zhu4 (World Weiqi Masterpieces of Life and Death). The other two being 《围棋棋经众妙》 (Weiqi Qi Jing Zhong Miao) and 《围棋技巧大全》 (即 《官子谱》) Weiqi ji4 qiao3 da4 quan2 (Guanzi Pu).ISBN:7-80548-124-5/G.125 hardcover ISBN: 7-80548-147-4/G.148 softcover (front cover: http://bresler.org/Go/Photos/FaYangLun_front.jpg) (back cover: http://bresler.org/Go/Photos/FaYangLun_back.jpg)
December 2003, the China Pro commentary version《发阳论新解》(修订本)revision is published, as belief the most up-to-date version for the classic so far.
August 2010, 围棋发阳论研究 (= Research on Weiqi Fayanglun) is published by Peopleís Sports Publishing House, ISBN 9787500936985. Author Cheng Xiaoliu gives new and updated sequences for many of the problems.
Availability of print versions of Igo Hatsuyoron
Available from Yellow Mountain Imports at

http://www.ymimports.com/p-237-analysis-of-generating-yang-igo-hatsuyoron.aspx editted by Cheng Xiaoliu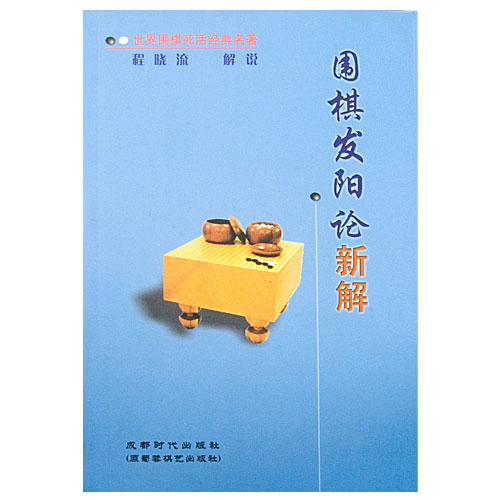 The edition edited by Hashimoto Utaro is available from amazon.co.jp,

http://www.amazon.co.jp/%E6%94%B9%E8%A8%82%E3%83%BB%E7%99%BA%E9%99%BD%E8%AB%96%E2%80%95%E6%AD%BB%E6%B4%BB%E3%81%AE%E7%A7%98%E4%BC%9D-%E4%BA%95%E4%B8%8A-%E5%9B%A0%E7%A2%A9/dp/438107971X/ref=sr_1_3?ie=UTF8&s=books&qid=1195515343&sr=8-3

http://www.amazon.co.jp/gp/product/images/438107971X/sr=8-3/qid=1195515343/ref=dp_image_0?ie=UTF8&n=465392&s=books&qid=1195515343&sr=8-3
Cheng Xiaoliu's 2010 "Research on Weiqi Fayanglun" can be found at

http://www.amazon.cn/%E5%9B%B4%E6%A3%8B%E5%8F%91%E9%98%B3%E8%AE%BA%E7%A0%94%E7%A9%B6-%E7%A8%8B%E6%99%93%E6%B5%81/dp/B003ZC4B1E, for example.
The Most Difficult Problem Ever
To get an idea of what the book is about, you could have a look at The Most Difficult Problem Ever page here on Sensei's Library. The fullest, and most accurate, online discussion (in English, and German, with tentative translations into Chinese, and Japanese) has its

"own page on the website of the German Go Federation" -- Dosetsu's masterpiece is unsolved so far. Although the Hatsuyoron problems are difficult, this problem is not representative of the book as a whole. Jerome Hubert has a discussion in French:

"the most difficult problem ever" (if you don't speak French, the problem is " Black to play and win the game" ; as the solution is more than 170 moves long, this may immediately give you an idea of the incredible difficulty of the thing). Composed by Dosetsu himself, this is (in the words of Fujisawa Shuko, who produced his version of a solution with 1,000 hours work, including the assistance of some of his students) "a lifetime masterpiece, with elegant shapes, the striking novelty of the theme, the precise balance of the fights, etc." Here is both the

solution in orignal French, and

a Google translation. (A lot of commentaries are necessary to understand why on Earth the winning manoeuvre for Black is to put his own 20 stones in atari, and why White doesn't want to capture them, but has to, thus losing the game ...)
Regarding the Name of the Book
John Fairbairn Hatsuyou (not hatsuyo) means "generating yang" which is here a way of saying tactics. Igo = go, ron = discussion. There is no reference to world. See my introduction in the Yutopian book if you need more detail.
kklim: Hatsuyou 《发阳论》, is also known as 《不断樱》(do not know how to translate into english meaning here, from word should mean "non-stop sakura") indicating that the book contains a number of colorful and clever moves, and that the tesujis follow one another rapidly without respite.
John F. The alternative name is Fudanzakura, which is the name of a kind of cherry tree (sakura) famous for its continuous (fudan) long blooms - this being, of course, the precise opposite of what cherry tree blooms are normally famous for in Japan (Iro wa nioedo, etc).
From my understanding from various sources, and this should interpret in ancient meaning: Hatsuyou 《发阳论》- game piece and similar items call "yin 阴", and skillful move hidden behind the shape is call "yang 阳". And 发阳 can be understand in plain english as discovery of those hidden, and yet effective skill moves.
Bill: In the afterword Inoue says 見分る手段は陽なり, which I take to mean that discriminating means is yang (in the context of go).
---
See also

David Carlton's review