Most Difficult Problem Ever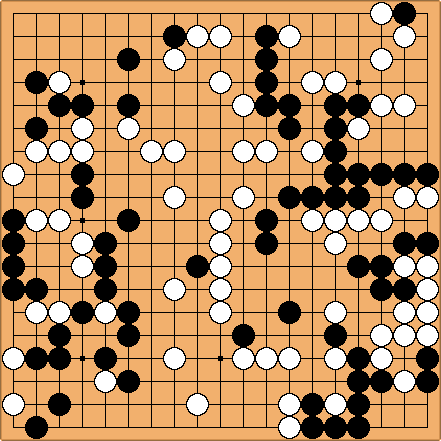 Prior to the discovery of new copies of the Igo Hatsuyoron, one might have thought that Xuanxuan Qijing Problem 213, nicknamed by the French master as "the emperor of life and death problems", as the most difficult problem ever.
After the discovery of new copies of the Igo Hatsuyoron in the 1980's, it is widely believed that this is the most difficult problem ever. Composed by Dosetsu himself, it is in the

words (dead link) of Fujisawa Shuko, who solved it with the assistance of some of his students, "a lifetime masterpiece, with elegant shapes, a striking novelty of the theme, a precise balance of the fights, etc."
/Shuko's Solution ("classic" 1982 solution until move 70, somewhat outdated)
/Three Amateurs Solution (newer solution, also partly validated by professional Chinese research)
The AI engine KataGo was used in 2019 to show how

white could potentially win.
See also:
---
Bob McGuigan: In another amazing whole-board problem, composed by Dosaku or perhaps Dosetsu, Black captures 72 stones but is unable to make a living group. I don't know of an online source but it is given as problem 20 in Nakayama Noriyuki's Treasure Chest Enigma.
f3etoiles It is online, on the site of

goproblems.com, and Nakayama attributed it to Dosaku (but he may be a little bit biased in his judgment :-)) While we are on it, the same site has also the

Dosetsu problem (with a Java solution, but I believe there are some mistakes in it, and it doesn't show the 1 point victory), and another incredible full-board thing, called

No Man's Land.
---
Possibly the ultimate "most difficult problem ever" is: starting from an empty 19x19 board, Black to win. Currently nobody has the solution, otherwise Go would be a solved game. This problem is also often circulated as a joke.