Eye-Stealing Tesuji
The eye-stealing tesuji typically involves the following shape: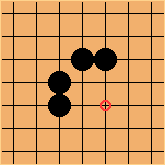 The circled spot is the crucial point for making shape.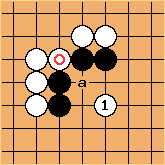 If White plays there, the shape is destroyed. Usually, the

stone is in place, so that Black eventually will have to prevent the cut and connect at a, ending up with a clumsy shape.
---
Variants of the tesuji can occur in simpler situations:
With the one white stone in place, any of a, b, c makes the eye false. White can play whichever of the three is convenient.
Another variant: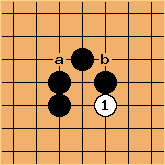 Black cannot get a real eye here, a and b are miai to make it false.
In some cases, a variant of the tesuji can be the start of an attack on a large group. Consider this position which fairly often arises from a 33 invasion joseki: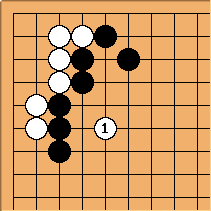 This is not much of a threat in isolation, but if there are a few other white stones about or if it can be played as a ladder-breaker or a ko threat so White gets more than one move in the area, it might lead to an attack on the entire black group.
tapir: Stealing an eye where black doesn't need one more eye isn't very useful, imo. But the question is how to threaten the cut in the most beneficial way.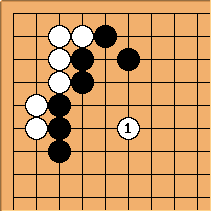 If the cut is something to fear for black (white stones along the left edge)

may well gain something.
---
See also the pages in the Eyes Collection, and Protecting the cut - example 1.
The same information, more compactly presented, is to be found at Learn the Eye-Stealing Tesuji.