Mouse stealing oil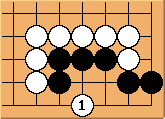 Mouse stealing oil is a direct translation of the Chinese go term 老鼠偷油. It refers to the killing tesuji of

, which exploits the fact that the four-stone Black chain has no outside liberties. This killing technique is a common theme in some life-and-death problems.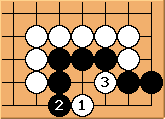 If

prevents White from connecting, then

cuts. Black is dead from double shortage of liberties.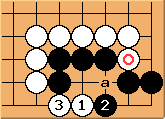 here allows

to connect back. Notice that in the presence of

, the

stone becomes an instance of the eye-stealing tesuji, and as such Black has no eye at a.
---
Applications
---
Note on translated term
There appears to be no established English Go term for "mouse stealing oil", although the corresponding Chinese term 老鼠偷油 is commonly used. The direct translation "mouse stealing oil" appears in Guo Juan's The World of Chinese Go, and probably other places as well.