Table Point Play
A table point is the unoccupied intersection which would enable one side to complete a table shape. A special case of the eye-stealing tesuji, a play here can be very telling, as in this example from a game between Takagawa Shukaku and Kitani Minoru: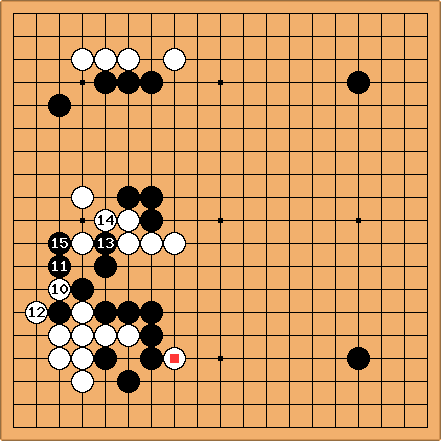 Black acquired powerful influence and separated white's centre group from the corner, while

was injured. Kitani was under constant attack for the remainder of the game, which ended in his resignation on move 143.
---
Remarks
Dieter: I'm skeptical about this page. Although this is an interesting situation from professional play, I doubt that the table shape is an essential aspect of it, or rather incidental. The critical aspect here is the direction of development, not the shape.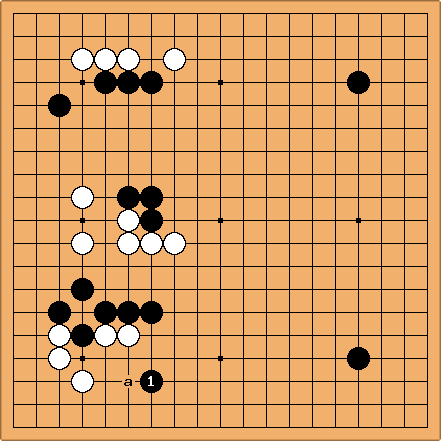 AI (in this case LeelaZero used on ZBaduk, prefers

over a. Regardless of who's right, the human pro or the AI, this indicates that indeed the key element is the direction of play rather than the shape.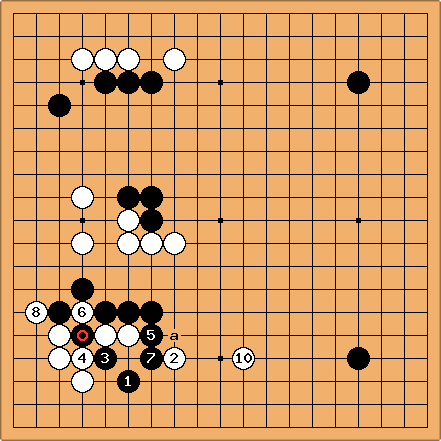 ZBaduk's LeelaZero finds

to be a 16% mistake. It also considers

a minor mistake (better to press at a). After

, it plays

instead of connecting at

, upon which

takes the ko. White then continues on the lower side.
The idea here seems to be that Black will end up overconcentrated, while White can make good corner territory while reducing the lower side.