Hanging connection
The hanging connection is an application of the tiger's mouth shape and serves at least two distinct purposes: an indirect way of defending a cutting point, and a way of blocking inroads to a certain part of the board.
Defending a Cutting Point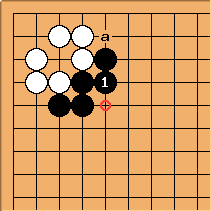 A solid connection in this case creates an empty triangle and is less efficient. White can more easily play a later.
Blocking inroads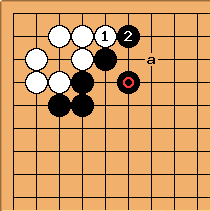 If White advances with

, then the hanging connection of

backs up

to block off the upper side. As a minor setback, this allows White to play a forcing move, with the peep at a. Also, White will likely get to make the sente endgame hane one point above

.
Bill: In fact, may be better at a.
Double hanging connection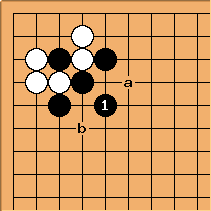 In this case

covers two cutting points. See trumpet connection. However, this allows for two forcing moves, at a and b: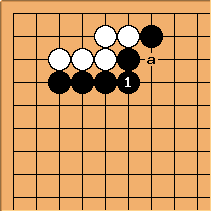 Because a double hanging connection allows two peeps, it should often be avoided. Here

, or a, might be better.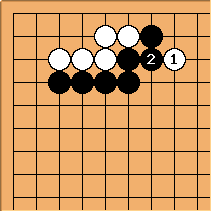 Incidentally this case

may be criticized as a raw peep: a peep at a cutting point that still might be useful as a cut (depending on the ladder).
Bill: Also, is hardly forced.
Endgame impact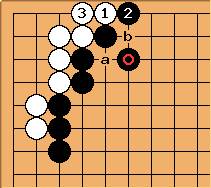 It should be noted that the hanging connection changes the endgame hane-connect

from sente (if

at a instead, then Black must play b) in gote.


See also