Hanging connection
The hanging connection is an application of the tiger's mouth shape and serves at least two distinct purposes: an indirect way of defending a cutting point, and a way of blocking inroads to a certain part of the board.
Defending a Cutting Point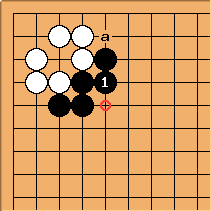 A solid connection in this case creates an empty triangle and is less efficient. White can more easily play a later.
Blocking inroads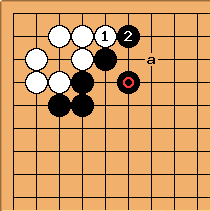 If White advances with

, then the hanging connection of

backs up

to block off the upper side. As a minor setback, this allows White to play a forcing move, with the peep at a.
Bill: In fact, may be better at a.
Double hanging connection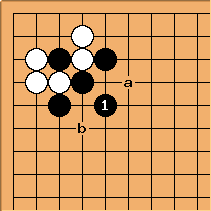 In this case

covers two cutting points. See trumpet connection. However, this allows for two forcing moves, at a and b: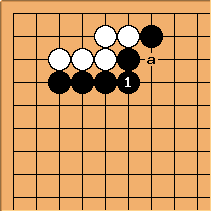 Because a double hanging connection allows two peeps, it should often be avoided. Here

, or a, might be better.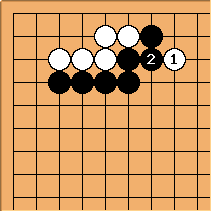 Incidentally this case

may be criticized as a raw peep: a peep at a cutting point that still might be useful as a cut (depending on the ladder).
Bill: Also, is hardly forced.
Endgame impact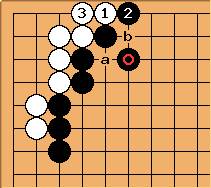 It should be noted that the hanging connection changes the endgame hane-connect

from sente (if

at a instead, then Black must play b) to gote.


Alternatives to the hanging connection
Black seeks to block White from entering the top side of the board where Black's position suffers from an open skirt.
While

, a bulge [1], blocks White from entering the top side from the corner, White is able to use the forcing move of

to establish a foothold on the top side. The two Whites stones (

and

) do not have a base at this time as there is not enough eyespace. Nonetheless, depending upon the surrounding positions, these stones may be able to escape to the center.
By playing this alternative diagonal, Black succeeds in blocking White. (Based upon Cho Hun-hyeon Weiqi Sucheng volume 2, problem 80, page 163).

should not be seen as a hanging connection by the way since the marked stones are already connected.
---
[1] Calling this move a hanging connection is problematical. A turn forms a solid connection, but we would not say in the next diagram that we use a solid connection to block the opponent on the side.
---
See also