Dochi Yose Tesuji
In a game played on November 24, 1705 between Honinbo Dochi (Black) and Yasui Senkaku (White), Dochi seemed to be losing by a few points in the endgame, when he suddenly played a brilliant endgame tesuji.
---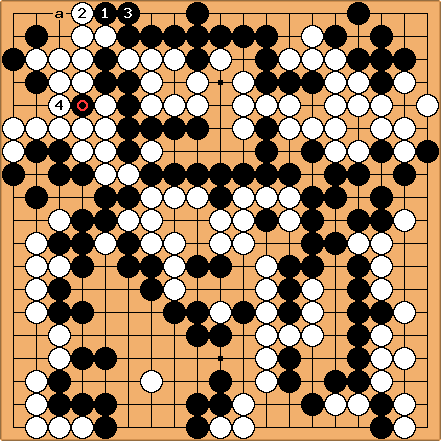 The invasion made

and

sente, because if White does not capture the marked stone with

, Black would play at a and make a seki.
The invasion does not work if it is played after the hane-connect sequence.
---
You may wonder whether White has no other way to play: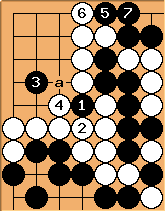 The other reasonable move for White is to play 4 here instead of a. Black next plays 5 and 7. If this is not sente, White has refuted Black's play.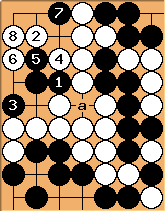 is an eye-stealing tesuji, as it makes the eye at a false, but

is a good response and Black's attack runs into nothing. No matter how hard he tries, e.g. with

and so on, Black cannot get a seki, ko, or anything else.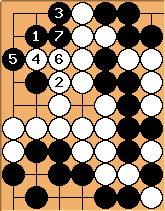 The solution for Black is to play on White's vital point himself, with

.

is forced, as a move here would be rather awkward for White. Next,

is tesuji and

establishes an eye in the corner. Thus the position becomes a seki.
As can be seen, if White did not reply, he would lose his corner territory (in a seki with Black). Therefore, White had to add another move to defend his territory after Black played hane-connect at the top border. The hane became Black's sente and enables him to win the game.
---
If Black continues playing inside, e.g. with 233 at

here, there is no real difference to the game. At worst, Black has lost a ko threat.
Anonymous :

is self-atari. Thus

is called into question.
Anonymous2: The author should indeed reconsider