briannowe
Well my name is Brian nowe and am a young go player am 14 i just started go i think it the greatest game that exist in the planet i mostly believe that go is an everlasting learning journey you can learn from a book or from a teacher ect but i mostly like to teach even thought am a low ranked player i learn from Usagi my current teacher i got many friends on Kgs like Deeptuna and my student Blackbomb i believe that go correspond with the art of war by Sun Tzu which is a great book to read by the way my Go idols are Honinbo Shusaku and Go Seigen and finally Kato Masao may he rest in peace am a well based player and try new things like Tengen and the chinese opening um am new to this but i will add plenty i have a go arsenal on my computer just ask me for any go related thing on briannowe@gmail.com am a strategist when i play i have a plan and am looking for a tutor so email me if u have time please look out for me as i turn into a go saint please look at my kgs profile for extended info
um i was browsing the other day on this thing and i notice the study section but i feel like their is more to that to get better they do not talk about the barrier that u get lot and lot of times and i really felt like their should be teachers more like usagi because their are willing to teach u many other teacher on Kgs are only based on money which i respect totally but some of us are kids and do not have money
and also i believe in making ur own little responds to special moves and create your own josekis i do not depend on josekis even thought good to learn them i never rely on them oh and am making a book 2 XD about go
mostly for real beginners who want to get stronger so wait for that it called utg dowloading center since am from the utg go clan i just want to create a website were u will learn i havent fiished it yet but am really gonna make it good it gonna change history but php and Mysql is hard and i dont know how to puntuate>:(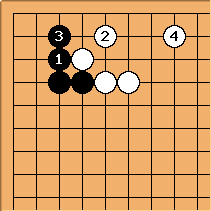 this is my tripod joseki i learn it in the life and death boook of jjamies davies and i changed by myself i hope u guys will use or consider it as an early attack against the ennemy
LukeNine45: How did the corner get into this state to begin with?
Aftermath:to answer your question is the best attack that you can think of early in the game
LukeNine45: I don't understand what you just said-- my question is how did this happen: Aftermath:well it a aproach that it was in a game of masao kato
---
Phelan: Aftermath now points to this page. Oh, and if you'd like more people to read your homepage on Sensei's, I would recommend more use of punctuation.
Aftermath:how do i put diagrams i n here