Four- And Five-Space Eyes
The Door Group is dead
Incomplete Shapes
Study Notes
In The Beginning / Study Notes

Life and Death Study notes
When a group's eye shape consists of a line, of unoccupied spaces, three is the critical length.
Six stones in a row on the 2nd line die, but eight stones on a row live.
In the corner four die and six live.
3. Four- And Five-Space Eyes
Eye shapes of four or more spaces in a row are alive.
But when spaces are not in a row, the shape may be unsettled or dead.
Some shapes: Straight four, Bent four, Bent four in the corner, Twisted four, Squared four, Pyramid four, Crossed Five and Bulky Five. (ref EyeShape )
Of the six-point big eyes, only the rabbity 6 and rectangular 6 in the corner can be killed.
Shapes of seven spaces or more are always alive.
One-space notchers are groups that consist of a chain on the second line, interrupted by a notch of one empty space on the second line and one stone on the third.
The rule for one space notchers is: "Four die, Seven live".
In the corner, five live.
The rule for two space notchers is "Five die, Seven live" or "Six is unsettled".
The rule for a three space notcher is either "Four die, Six live" or "Five is unsettled".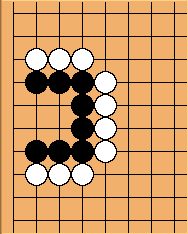 The door group with one extra leg is unsettled.
---
Related:
See also