Bent Four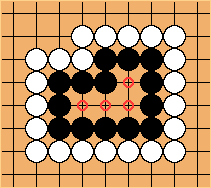 The circled empty spots make the bent four shape.
Bent four is a live shape.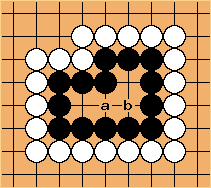 A bent four is alive, because the points a and b are miai, so black can always form two eyes.
However, if a bent four appears in the corner, the status of the group may be different. See bent four in the corner.
---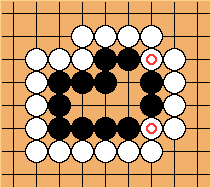 When the bent four has cutting points such as that induced by the

stones, it is not necessarily alive. This particular case is also known as 断头曲四 (literally, "decapitated bent four") in Chinese.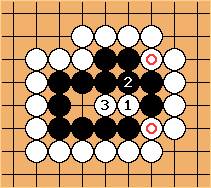 Due to shortage of liberties,

is an atari on two Black stones, forcing

to connect, allowing

to occupy the other vital point. Black is dead in a straight three dead shape.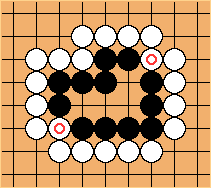 Note however, not all configurations of cutting points cause the status to be unsettled. Also, one must take note the number of liberties on the individual chains. In the situation here, Black is unconditionally alive with four points of territory.
---
See also: