B2 Bomber
For the humorous article under this name until 2019-11-18, see The Power of the B2 Bomber
The B2 Bomber is a name for a heavy lump of 6 stones, a dango. The name alludes to the shape of the

Northrop Grumman B-2 Spirit bomber.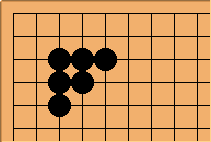 One way it can arise is from peeps at a trumpet connection (double tiger's mouth), as in this failed attempt to create sabaki with a probe at a shimari: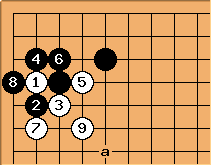 should have been further out at a[1]. As a result, Black can make the white stones heavy:
---
Notes
[1] See e.g. the section Some Important Terms and Concepts in 501 Opening Problems.