Honeycomb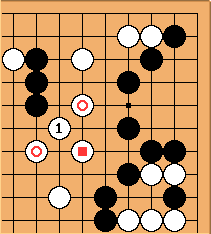 forms the honeycomb shape, elastic and rich with eye possibilities.
The difference with a lion's mouth is that the latter is a particular type of connection preventing the other side from cutting, while the honeycomb is just a light, sabaki-enabling shape. Since the shape is (locally) the same, the term is really just descriptive of the intent and the surrounding conditions, not so much the shape. Also, the final move tends to be different. In the lion's mouth, the final move would be

. In the honeycomb it is more likely to be one of

or

.