Accompanying materials of The Art of 9x9 Go:

GO SEIGEN 9 DAN DEFEATED BY NAOKI MIYAMOTO 8 DAN
Black wins by 4 points, komi 0.

This is the first of the two legendary 9x9 games that nobody has ever dared to make public commentary, because of the depth of thought and the complexity of interaction both grandmasters had contributed to the game.

Why Only 2 Games Played
Both players are very strong in 19x19 and 9x9. In fact, only one game is enough to reveal how many points Black will win. The second game (to be reviewed) serves as a confirmation that Black can win by 4 points. This is because both players can count correctly the resulting scores of both sides for every single move played, and can choose the best move in 9x9 as the answer to the previous move. Playing more games is just the waste of their time and effort.

Background
It was in 1968, when Black was Naoki Miyamoto, 8 dan, who had just won the Kansai Ki-in Championship in 1967; he was the strongest player at that time (Lee Changho's master Cho Hunhyun was still nobody in Japan). His writings were composed and translated to a unique book called The Breakthrough to Shodan, which was published a few years later. He became 9 dan one year later. He prefers simplicity and globalization.

White was famous Go Seigen 9 dan, who won the Old Meijin title in 1962 and the Okura Prize in 1967, one year before this match. He is Father of Openning & Influence and one of the three greatest 19x19 go players of all times. He prefers complexity and modernization.

Although Black prefers simplicity, it dose not mean he cannot deal with complexity. Naoki is like a Tai Chi master who fight softly and smoothly; Go is like a Shaolin master who fight hard and variably. The soft beat the hard, this game.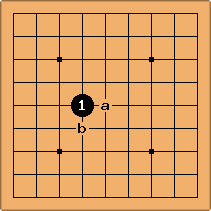 Naoki opened with

, a favorite opening played by Darksniper 8 Dan, who has the best statistically recorded game results in 9x9 go at GoQuest and the top 3 9x9 go player in the world. Handiwin 8 Dan (no. 4 in the world) and I also like

. It is neither as too aggressive nor too defensive as a and b are, respectively. These players prefer simplicity, so

is a common opening for simple-style 9x9 go players.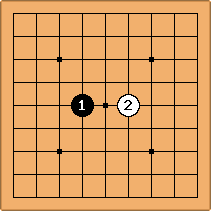 Go answered with

, a common response in high dan games.

makes the whole board balance. With Komi of 0, balance playing will often, if not always, lead Black to victory. The question is "How many points will Black win?" Answer to this question is crucial to the determination of proper Komi (k) in 9x9 go.
---
Note: For any game between equally strong (or weak) players, we have

b - (w + d) = 0,
d = b - w, and
k = d + a

where, b is Black's total score; w is White's total score; d is the average score difference in zero komi games (d = 4 for the legendary games); and a is the adding score which equals 0.5 with White winning jigo (b = w + d). Hence, we have

k = d + 0.5 = [(4+4)/2] + 0.5 = 4.5

Thus, the proper komi, based on the legendary 9x9 games, is 4.5.
---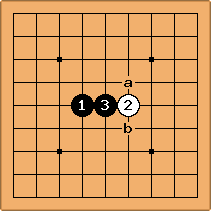 The purpose of bumping (

) was to de-balance the shape White had created.

also prevents White from playing copy moves that will recover or maintain the balance of shape. In term of attack, which is the heart of go,

is a small but solid and powerful one. Black can hane next at a or b, to benefit from the strong basis formed by

and

. Now,

is the weakest stone and needs help.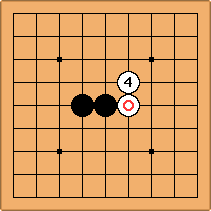 White's response,

, had strengthen

and created a potential opportunity to attack both the northern and the southern zones. The southern attack (if any) will be more efficient for White, as it will cause more damage to Black's potential territory with less white stones than will the northern attack do. Black had noticed this and did something to prevent it in his next move.
---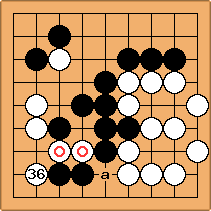 Full annotations (

to here) are given in The Art of 9x9 Go.