Accompanying material of The Art of 9x9 Go, by

Monteo da Westi
BIG MATCH OF THE TOP PRO PLAYERS
White wins by 1.5 points, komi 6.5

This commented game from

OGS was edited to provide insights into the strategy and tactics of 9x9 Go at the high-dan level.
Black,

Daisuke Murakawa 9p, was still just a 6th grader when he became a professional Go player at the Kansai Ki-in. He was only one month older than White,

Iyama Yuta 9p, making him the second youngest professional in Japan. He is the youngest Kansai Ki-in professional. White is his rival.
White, from the Nihon Ki-in, is the first player in history to hold all seven major Japanese titles simultaneously.
This game, White plays a little better at the opening and the endgame, while Black made a big mistake at Move 41, so Iyama (White) wins by 0.5. If Murakawa didn't make the mistake, he would win nicely.
---
Old Comment
The 4-4 point is the most common move among pros besides tengen. It's a good outpost to prepare for fighting, but just as in the larger boards, it's open to the opponent invading underneath and taking the corner territory and then you're stuck with the outside (and the outside is really small on the 9x9 board).
New Comment
In pro games, however, White will never attack

at the triangle. Rather, White will enjoy a simple-and-balance move of

(e.g., at a or b), to take advantage from the komi.
---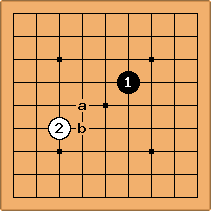 Iyama Yuta 9p plays

at the 3-4 point, good at controlling the corner territory.
However,

is not the best move. It is too low and shows that Iyama is a territorial player. This is Iyama's first mistake. Black can attack it at a or b, with the support of

, to gain a larger potential territory.
---