The Art of 9x9 Go
The Way to 9x9: Superhuman Performance

PDF book that leads you to the state-of-the art 9x9 Computer Go program, by Monteo. See the

Books Website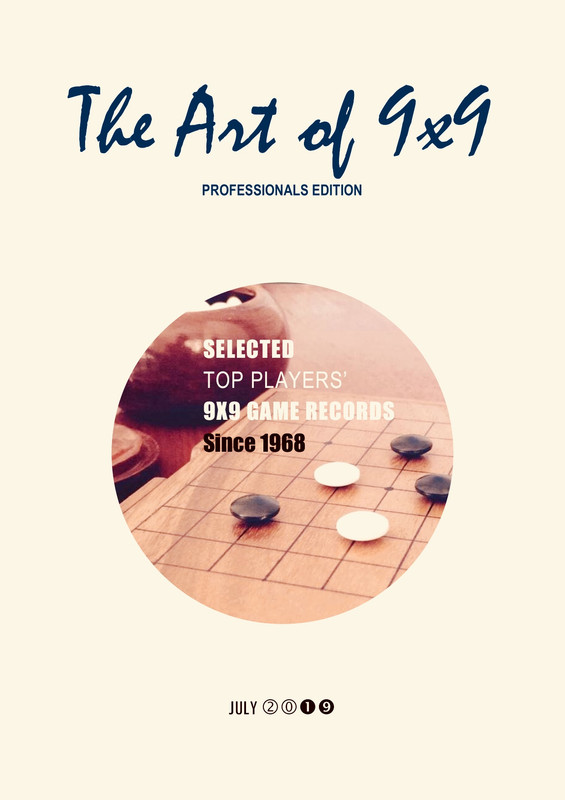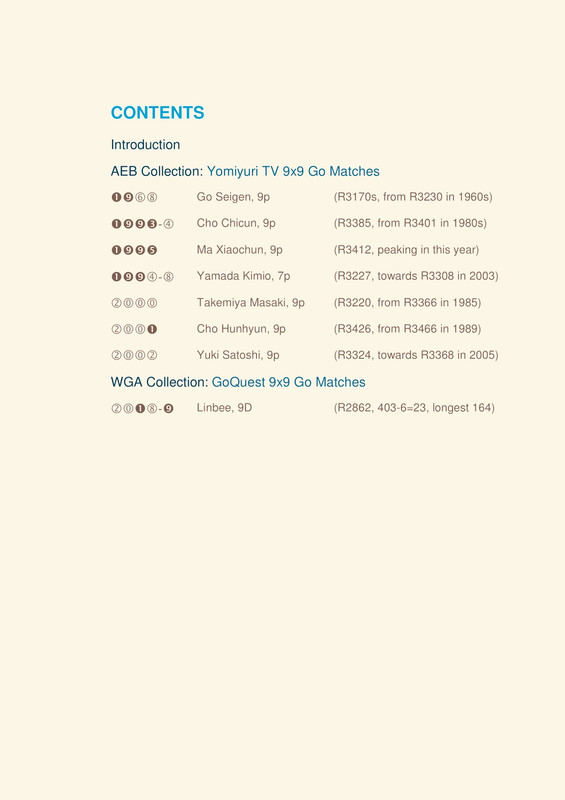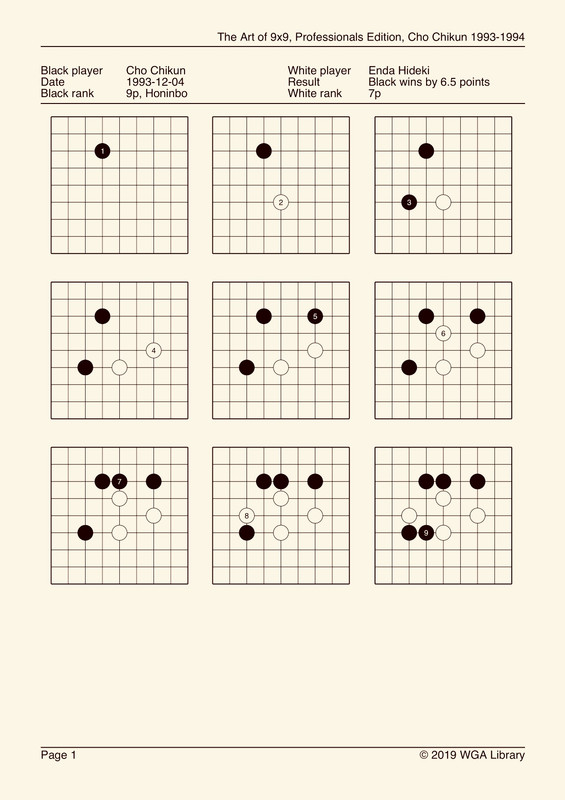 THE ART OF 9x9, Professionals Edition

PDF book (340 pages) that compiles the selected 9x9 game records of the greatest 9x9 Go players in history (since 1968). See the

Books Website

CONTENTS
Introduction
AEB Collection
1968 Go Seigen
1993 Cho Chicun
1995 Ma Xiaochun
1998 Yamada Kimio
2000 Takemiya Masaki
2001 Cho Hunhyun
2002 Yuki Satoshi
WGA Collection
2018 Linbee


INTRODUCTION
Every Sunday from 1987 to 2002, there were professional Go players playing 9x9 Go in situ and was broadcast on Yomiuri TV in Japan. The SGF records of these games are in the public domain and have been collected by Professor Andries E. Brouwer.

Some of the SGF files were converted into this single PDF book, which is both a digital art work and a learning material on the art of 9x9. First, the games were sorted for the greatest 9x9 Go players of each time and their winning games, resulting in a set of quality games of Cho Chicun, Ma Xiaochun, Yamada Kimio, Takemiya Masaki, Cho Hunhyun, and Yuki Satoshi. Second, two legendary 9x9 games of Go Seigen were also collected from Gobase. Finally, the game records from 2017 to 2019 were collected from Dr. Yasushi Tanase's GoQuest, and sorted for the greatest player of all-time and his winning games, resulting in another set of quality games of Linbee. Virtually all of them are left uncommented because much remains to be done before fruitful comments can be made, particularly on the art of 9x9 at the opening, the middle, and the endgame, as well as the global strategy and local tactics of each player.

This book is thus useful for observing the greatest Go players' style of play (move by move), without any need for SGF software and frequent mouse-clicking.


——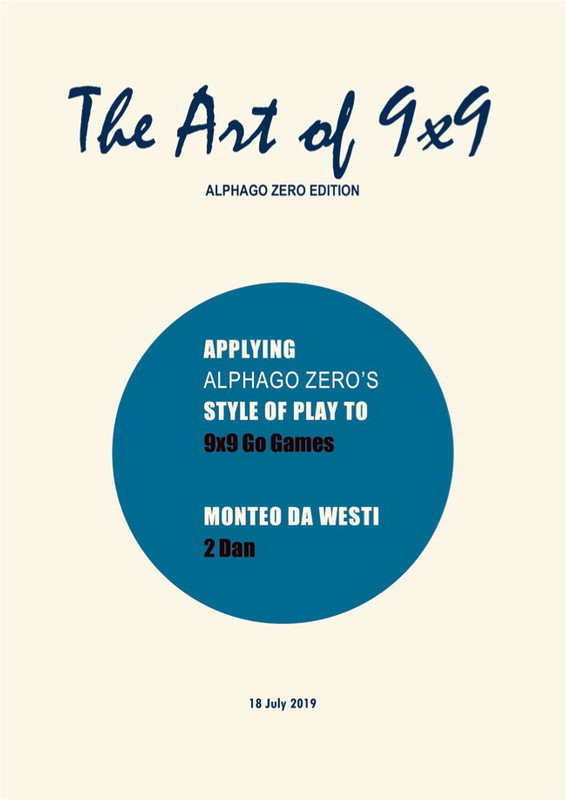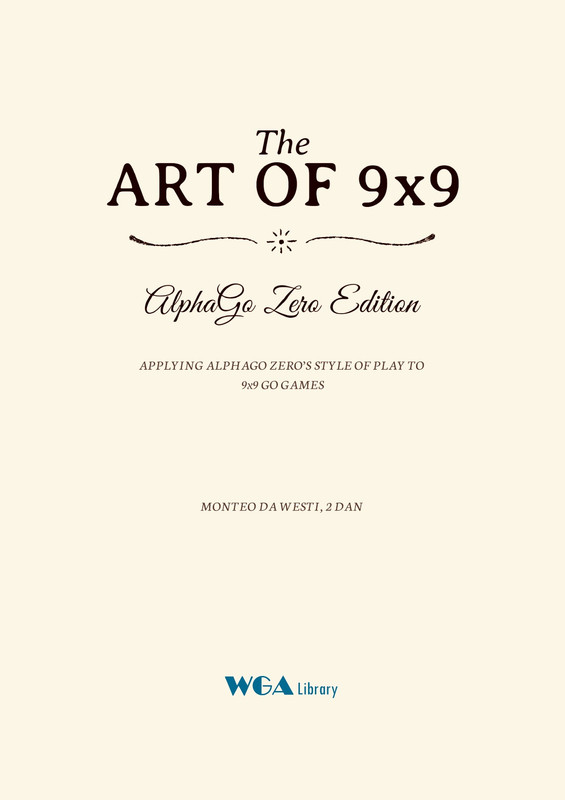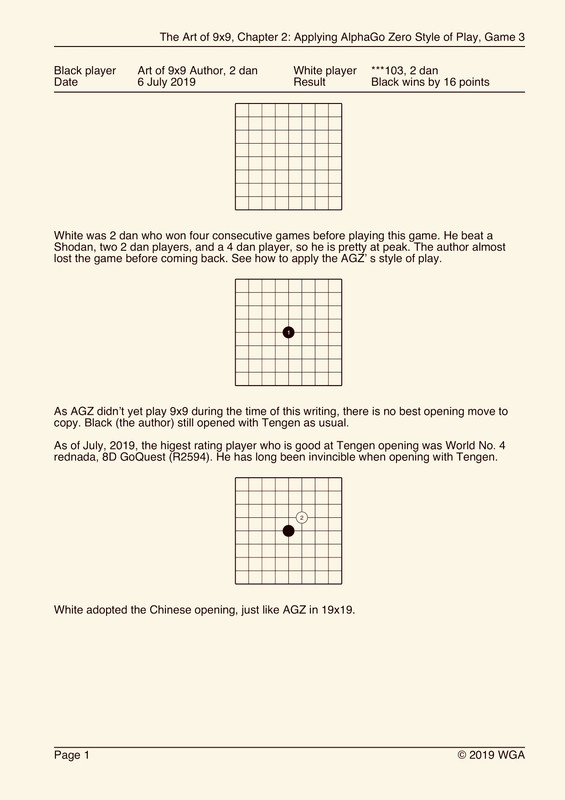 THE ART OF 9x9, AlphaGo Zero Edition

PDF book that demonstrates the use of AlphaGo Zero's tactics and strategies to 9x9 Go games, which might be fun and helpful for Go players who want to breakthrough to Shodan at GoQuest.

CONTENTS
Preface
Chapter 1 Learning from AlphaGo Zero
GAME 1 AlphaGo Zero, Block 1.1
Chapter 2 Applying AlphaGo's Style of Play
GAME 1 The 3-3 Invasion
GAME 2 Strategic Attachment
GAME 3 Potential Problem Prevention
GAME 4 Double-dragon Move & Standing
GAME 5 Butterfly Move
GAME 6 Highly Aggressive Style


PREFACE
Top Go professionals had long been human players until the middle and the late 2010s, when a British AI company, called Google DeepMind, had developed the strongest AIs that defeated top players, one by one. In 2015, AlphaGo Fan defeated European champion Fan Hui, 2p, by winning 5 games to 0. Then, in 2016, AlphaGo Lee defeated 18-time world champion Lee Sedol, 9p (4-1). In 2017, AlphaGo Master defeated world number one Ke Jie, 9p (3-0). In the same year, AlphaGo Zero defeated both AlphaGo Lee (100-0) and then, the full strength of AlphaGo Zero, called AlphaGo Zero-40 Blocks defeated AlphaGo Master (89-11), and had arguably become the strongest Go player in history before a more generic version called AlphaZero defeated AlphaGo Zero in 2018, winning 61% of the games, noted by Prof. David Silver and the DeepMind team in Science 262, 1140-1144.

Even so, AlphaGo Zero's style of play has been studied intensively by serious Go players around the world, but mainly limited to the 19x19 board size. Therefore, Monteo da Westi, a 9x9 Go researcher who has studied 9x9 Go for two decades, has tried to understand the art of 9x9 Go by transforming AlphaGo Zero games to the 9x9 board size (using WGA algorithm); watching Michael Redmond, 9p, (AlphaGo Zero games review); and studying well-selected top professional 9x9 games played between 1968 and 2002. Some of the style was copied and applied to 9x9 his own dan-level games at GoQuest. Strategy and tactics of 9x9 Go learned from this project were presented in a game review fashion, where each game was carefully annotated, mainly move by move, and compiled to this book.

This book (PDF only) serves as an interim report that remains to be updated and improved overtime. Newer versions of this book, to be released when appropriate, would be useful for 9x9 players who are trying to breakthrough to Shodan at GoQuest, and for those who are interested in studying the 9x9 strategy and tactics from the games by the strongest AIs and the best 9x9 human players of each time.
Monteo da Westi, 2 dan
WGA Library
14 July 2019



——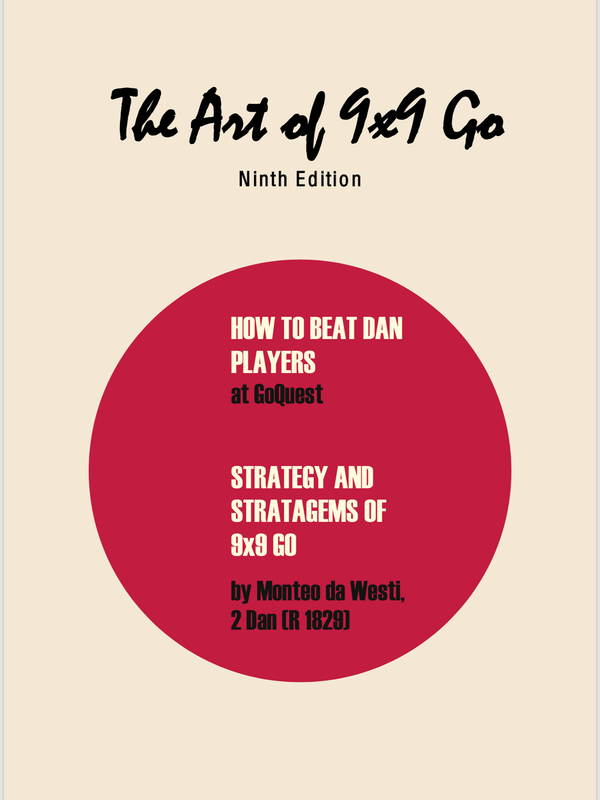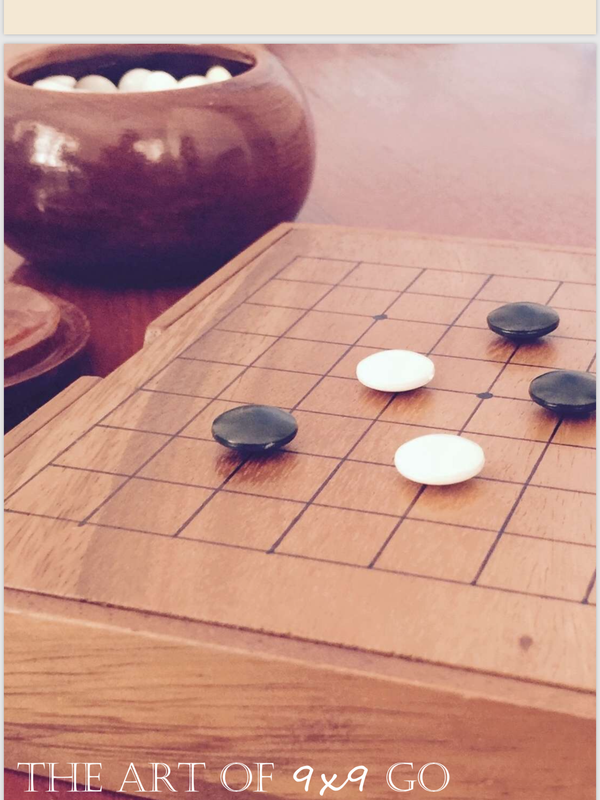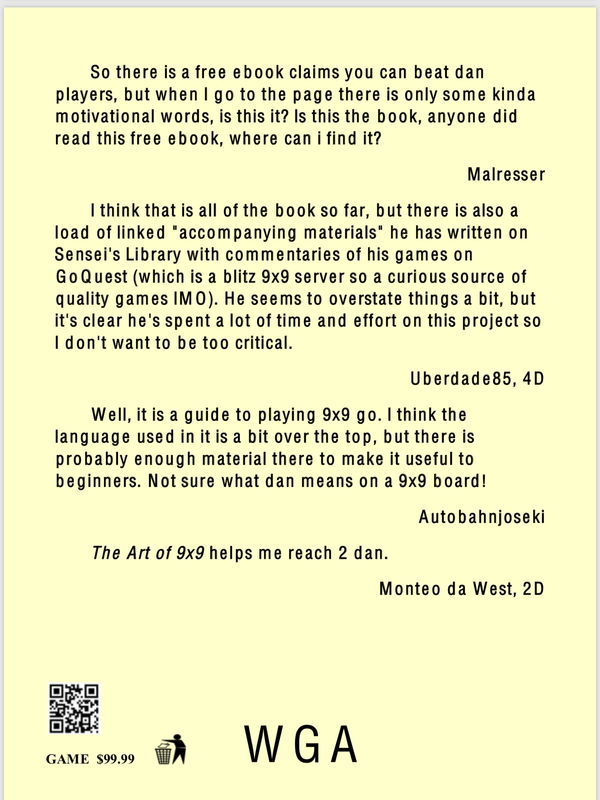 THE ART OF 9x9 GO
How to Beat Dan Players at GoQuest, 9th Edition

Accompanying Materials: Applying Alphago Zero's Style of Play to 9x9 Go Games
Ebook (PDF, 53 pp.) that deals with strategy and stratagems for 9x9 go, which reflects the author's experience playing the game during the past 15 years (ca. 5,000 games played). The book consists of 15 chapters that briefly describe how to beat some 1 – 6 dan players at GoQuest, and gives the right to access the online accompanying materials that will help kyu players better understand the art of 9x9 go, and know how to beat dan players, particularly the shodan.

Table of Contents
PREFACE..................... (4)
CONTENTS.................... (7)
CHAPTER 1 Dan Mindset........ 9
CHAPTER 2 Balance........... 12
CHAPTER 3 Cutting........... 13
CHAPTER 4 Generosity........ 14
CHAPTER 5 Sacrifice......... 15
CHAPTER 6 Dan Invasion...... 16
CHAPTER 7 Ko Fight.......... 17
CHAPTER 8 Counting.......... 18
CHAPTER 9 Solidity.......... 19
CHAPTER 10 Initiative....... 20
CHAPTER 11 Prediction ...... 21
CHAPTER 12 Multi-objectives. 22
CHAPTER 13 Great Wall....... 23
CHAPTER 14 Divine Games..... 24
CHAPTER 15 Common Mistakes....26
9x9 GO PROVERBS............. 27
ACCOMPANYING MATERIALS...... 35
BIBLIOGRAPHY................ 56
AUTHOR...................... 57


Sample Materials

PREFACE
Why You Need to Read This Book

If you can neither beat any 9x9 dan player at GoQuest nor can you beat Igowin Pro or Igowin HD at their maximum strength, even games, you are still a kyu player. If you would like to beat hundreds of them, or if you are trying to reach the master level of 1 dan (9x9 shodan), this Ebook might serve you well. Applying the art of 9x9 described in the book, I beat hundreds of 1-2 dan players and many 3-6 dan players at GoQuest.
Beating dan players is a prerequisite for reaching Shodan, which is a hard goal to achieve. Most players have played more than 4,000 games, and are still kyu players (da West, 2016). If you, too, are a kyu player, this book might help you reduce your retention time in the kyu state. The book deals with fundamental 9x9 strategy and stratagems that reflect my experience playing 9x9 go during the past 15 years (> 4,000 games played). There are 14 chapters that describe how I beat hundreds of 1 - 6 dan players at GoQuest. Some of the dan-level games were diagrammed, commented, and originally published at the Sensei's Library and included as the accompanying materials of this book, which serves as an operational guidance. If you are not sure whether you should read this book, you may consult Reddit.com, where opinions had been sounded out by Malresser (2016). Some of the comments are given on the back cover of this book.
Once you understand the art of 9x9, notable results must follow. The strongest player, I beat by using the art of 9x9, was skillup, 6 dan. He was one of the world top 500 9x9 go players in 2017. Hence, I am pretty sure The Art of 9x9 Go will help you breakthrough to genuine shodan. How do you know you are already a genuine shodan? Look at your game statistics at GoQuest. If your Elo scores in all cases are above 1700, both Black and White, you are.
If you are already a shodan, you do not need to read this book unless you have stopped playing the game for a very long time and want to recover the shodan spirit. In this case, jump to Chapter 14, where the top secret of 9x9 strategy is revealed.
Monteo da Westi, 1 dan
PREFACE TO THE NINTH EDITION
To assure you that this book can help you breakthrough to Shodan, I have further improved my 9x9 mindset, by eliminating what I once regarded as good practices but now as wrong beliefs, and replaced them with the better ones. Then, my strength has become 2 dan (R>1800). So, it is a time to edit The Art of 9x9 Go to show how to play like a master. The blue text represents the mindset that made me reach 2 dan. The black text represents the basic mindset of Shodan.

Monteo da Westi, 2 dan
Nov. 26, 2017