Overconcentrated shape
Overconcentrated shape means too many stones (of one colour) in one part of the board for the work they do; so shape that is inefficient because it's too solid. Being overconcentrated is worse than most beginners think: stones can be added to shore up a thin position, but overconcentrated is forever.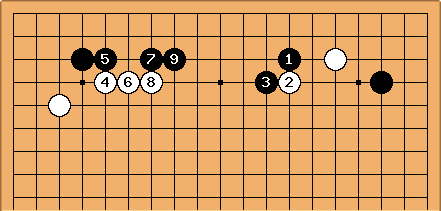 Dosaku, the undisputed best player of his time, brought go to a new level of theoretical knowledge. It was he who introduced the concept of tewari analysis. Applying this, he tried to overconcentrate the shapes of his opponents, like in this 1670 game against Chitetsu.
xela: in GoGoD, the date of this game is given as 1674-08-30.
Joona Karjalainen?: Interestingly enough, this position reoccured on 2000-02-10 in a game between Cho U and Akiyama Jiro.
kmr?: More than interestingly enough, this position appeared in Dosaku-Chitetsu series (both times Dosaku as white) at least 2 times (according to my data). Both games from 1674, one game was won by Dosaku by 5 points, but 2nd was won by Chitetsu by 6 points (one of his very few wins with just black). Fuseki of both games is almost the same, except lower right corner.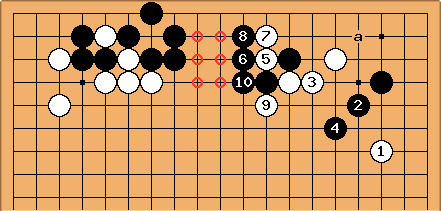 After this sequence the black formation at the top is very strong. However the influence of the black groups overlaps in the marked area. This means that these stones have not been developed to their full efficiency on the board: they are overconcentrated.
--Stefan
Bill: In the published Elf commentaries, Elf gives Black a 51.0% winrate estimate after

in the korigatachi diagram. It gives Black a 51.7% winrate estimate in this earlier position, where Black has just played the pincer (marked).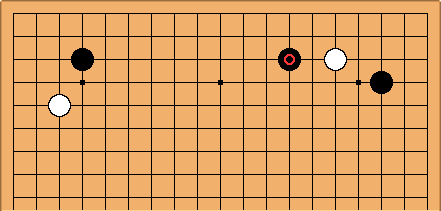 Who would have thought that this is just as bad as korigatachi? In the korigatachi diagram Elf identifies the culprit as

. It recommends tenuki and later approaching White from the corner at "a".
Charles By Shusaku's day, I think all pros knew about avoiding overconcentration traps.
---
The Japanese term korigatachi literally means "stiff shape". Koru, the Japanese verb from which kori derives, means congealing, clotting, gettting stiff shoulders, be fixated on something, concentrate overly much on something, be absorbed in something, be fascinated by something. It is distinct from (although perhaps a cognate of) the verb kooru, meaning freeze.
Fr: korigatachi
---
See also