Cross-cut then extend
The proverb cross-cut then extend (or the first to extend from a crosscut has the advantage) is somewhat misleading. There has been a lot of criticism that can be read at the /Technical Discussion page. A way to interpret the proverb is to reduce it to a not so common situation:
When there are no other stones nearby, extending from the crosscut gives the advantage
Some diagrams to explain.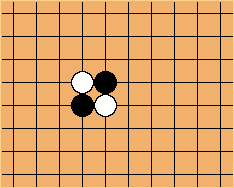 An isolated cross-cut. Black to play.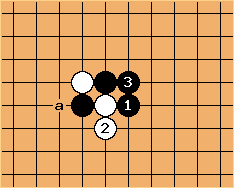 It is tempting to play atari. Then connecting at

is a good idea. However, this strengthens White and weakens the lone Black stone. A ladder at a may be possible.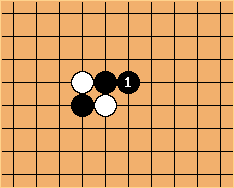 After the more defensive-looking extension it is White's turn. However, White has to make a choice of which stone to strengthen. This is in fact an application of the 1-2-3 principle: if you are going to strengthen at

in the previous diagram, why not do it at once as in this diagram.
---
See also
---
Bill: Right now this page seems too sparse. How much help is it to someone who does not already know the proverb? (I am commenting here because I expect to delete this note later. :))