Cutting the Keima
Keima
Cutting the keima without support will usually strengthen the opponent.
After the cut with

and

, White has extended from a crosscut and sente which is very advantageous for him. Next,

may capture the cutting stone in a ladder
So, cutting a keima is only advised when the attacker has support from other stones.
A genuine cut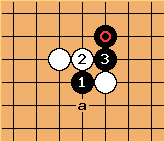 When

is present, the cut becomes more severe. If the ladder at a works for Black,

is a genuine cut.
Striking at the waist of the keima is usually the correct way to cut. We refer to that page to understand why that is so.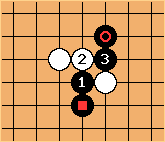 If on top of

, there is also a black stone

, the same sequence results in a very severe cut.
Comparing to the one space jump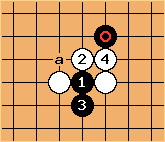 If we compare the previous sequence with this one, where Black tries to cut a one space jump, we can see that White is reinforced and

weakened, even if Black can next continue to cut at a. We can say Black has effectively cut himself here rather than White.
These diagrams show why, in hostile environment, the more stable one space jump is preferable for defending, whereas a keima is often more appropriate for attacking purposes in friendly environment.
Further reading