Under the Stones
A play under the stones (Japanese: ishi-no-shita) is a play in a space which has become free because some of your own stones have been captured.
There are some spectacular tesuji where you plan to do this, losing stones deliberately, and carry that out unexpectedly.
---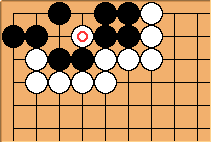 Under the stones can be found in some life and death problems. This one is taken from Beginner Exercise 55.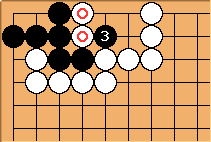 Even though

captures four black stones, the magic of the under the stones tesuji is shown when

recaptures two white stones to make the second eye and lives.
---
Examples
Problems
---