Throw-in
A throw-in is a sacrifice stone played at the point where the enemy wants to connect, giving rise to a false eye, shortage of liberties, snapback, oiotoshi (connect-and-die), or squeeze. The expression feed may also be used: "(force-)feed the enemy a stone".
A throw-in is different from a nakade. A nakade is a play inside a real eye. A throw-in makes or maintains a false eye.
---
Example 1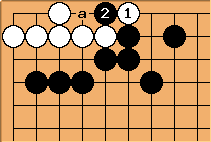 , trying to grab an extra point, is a mistake. Black can throw in at

, and the eye here is false. Even if White takes at a, Black does not have to respond, as the eye at

will never become real.

at

would have been life.
Example 2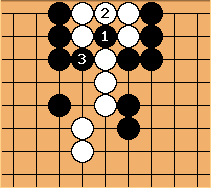 In this example, a throw-in is used to remove the eye which White could have made here.
Example 3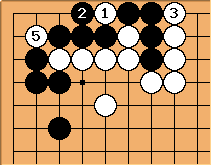 The throw-in is commonly used to reduce the opponent's liberties, inducing shortage of liberties of some form. In this example, it allows White to capture some Black stones in a connect-and-die.
Japanese terms
hōrikomi: "throw in"
uchikaki: "play to deprive"
kuwaseru: "feed"
See also