Add a second stone and sacrifice both
The proverb add a second stone and sacrifice both summarizes a common technique of sacrifice.
Main discussion
Consider the following sequence (discussed by Sakata Eio in his book "The Middle Game of Go").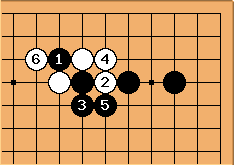 Black has just played the crosscut at

. (Sakata calls

vulgar style in the context of the discussed game, but that is another matter. There are plenty of occasions where this sequence is perfectly OK.)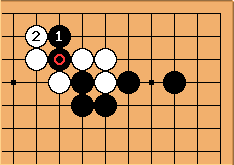 It is clear that

is going to be captured. Nevertheless Black adds another stone, in accordance with the proverb.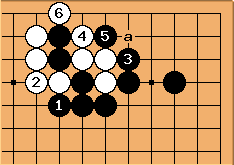 The thinking behind Black's line of play becomes clear in this diagram. Black has forcing moves at

,

and

. Thanks to his larger sacrifice, he has a move on the outside (

) and two which seal off the corner. (Note that

makes a a gote follow-up for White. See /continuation for further explanation.)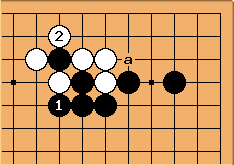 Compare this with an atari at

without adding the extra stone: White would capture (a ponnuki), and that would be the end of it. The block at a is no longer sente now.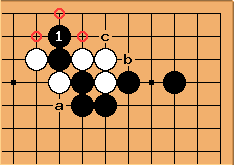 In summary: adding the extra stone increases the (marked) liberties of the black group. As White needs more moves to capture it, Black gets more forcing moves.
---
The effect of nearby stones
For the sake of discussion, if there is a

stone, then White will almost always capture

by

(ladder), and almost never play

at a. This leaves only the forcing move at b, but the block at c is not sente.
---