Four die but six live
On the third line or in the corner on the second line a string of four stones is dead, and a string of six stones is alive. A string of five stones lives or dies according to sente. Similar proverb is Six Die But Eight Live (on second line)
Four in row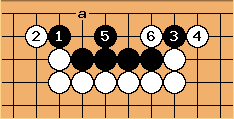 Black tries to expand his eyespace with

and

, but White plays

and

and Black dies.

at a or

is met with

.
Six in row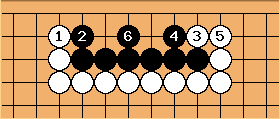 Bill: This appears to be White's best play, leaving a possible seki. See

Segoe's sequences.
Editor comment: Seki is a kind of unconditional life. (Six live)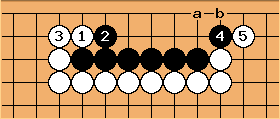 Another attempt. Black is still alive. A is correct, B seems inferior. For continuations see Analysis page.
Five in row
Obviously black needs sente to save her stones. After Analysis it seems that black can unconditionaly live. Diagrams here shows one possible solution.