Empty triangle

This shape is an empty triangle, empty referring to the unoccupied point at

. Typically, the empty triangle is bad, being inefficient and prone to shortage of liberties. Empty triangle is also sometimes called the devil's shape (onigatachi), because it brings to mind the long nose of one kind of Japanese demon.
In contrast, the full triangle, with a White stone at

, is good shape. However, sometimes an empty triangle is the best move: good empty triangle.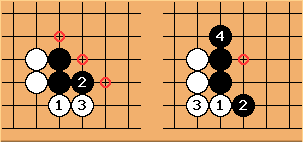 is a hane on the second line. Black may fear what happens if he blocks. In the left diagram he creates an empty triangle. Things get worse with

, wrapping around it and reducing the liberties to 3. In the right diagram,

forces

to connect and

creates good shape with three in a row.
Further reading
Elsewhere on the web