Bump
White bumps into the Black stone. A natural local response is usually to stretch to a or b. A common term for this move is butting play.
The Japanese term is tsukiatari.
The bump is not a very usual move, but it has its uses.
---
There is an interesting branch of 3-4 point joseki (invented by Kitani Minoru) starting with a bump: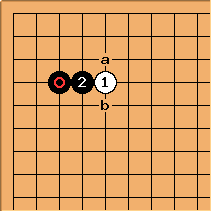 Example 2: Situational move

The bump is occasionally used as a situational move? for preventing White from connecting underneath at a.
(unkx80: A better example is requested.)
Example 3: 9x9 board game
Also, the first round of Go Seigen vs Miyamoto Naoki 9x9 match started with a bump: