Wedge
The English Go term 'wedge' has two meanings, though the meaning is usually clear in context:
There are many wedge variants.
A move wedging between two enemy stones.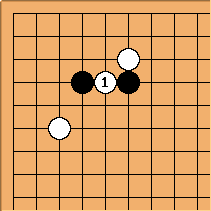 BobMcGuigan The move above is also an example of hanekomi, a warikomi which is, at the same time, a hane.
A warikomi is often a tesuji used to create cutting points, separate the opponent's stones, or connect your own stones. For example: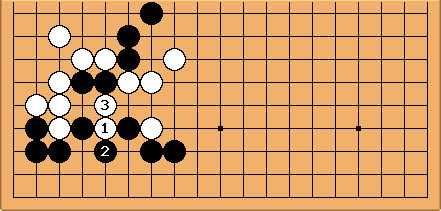 is the warikomi.

This example is from the tesuji dictionary by Segoe Kensaku and Go Seigen.
---
HolIgor comments.
I was taught that it is to your disadvantage to play between two stones separated by 1 space. I followed this rule to discover later that this is not always true and as the stones appear on both sides of the one-point jump formation you have to consider seriously a probability of a cut. At some point the motto of the day was "Check your connections".
Get good connections, trust your connections but check them.
---
See also