SmartGo
(See Smart Game Format if you are looking for info on the Smart Go Format)
SmartGo is a commercial Go program for Windows & Apple (via a Windows emulator). SmartGo for Windows (version 3.1.7) comes with over 105000 professional games and over 2000 problems. It is localized in English, French, German, Japanese, Polish and Russian. A free 15-day trial is available at the SmartGo

web site.
There are two different go programs from the same author for the iPhone, iPad, and iPod Touch:

SmartGo Kifu and

SmartGo Player.
Also see SmartGo Books, an app that allows users to read Go books with interactive diagrams.

Website,

support,

blog,

twitter
See latest go software updates for current version information
---
Author's comments
Anders Kierulf: A general purpose tool to enter, replay, annotate, study, organize, and print Go games. Full support for SGF, including markups, annotations, and diagrams. Extensive search capabilities. Instant joseki and fuseki analysis based on more than 45000 professional games. Instant filter by game info. IGS client. Create diagrams in PDF, EPS, as well as SL ASCII format. And much more.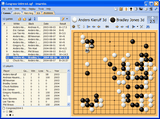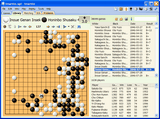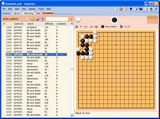 We encourage you to go to

https://smartgo.com/windows.html, download the 15-day free trial, and check it out for yourself.
---
User comments
Bette: I have the 9x9 version, and it shows the computer's read ahead. Is there any way to keep it from doing that?
AshleyF: You can turn that off on the View toolbar (see the "Computer lookahead:" section of the help page: http://www.smartgo.com/HTML/playagainstcomputer.htm). Also, there's the Lookahead toolbar on which you'll see the think time, positions evaluated, search depth, etc. but I assume what you're talking about the little stones that show up during reading, eh? Hope that helps!
---
Luiz Borges: I'm a beginner player (real beginner, 1 month of play maybe around 20k) and I tried out SmartGo:9x9, on the first game I won by 3.5 points under chinese rules, and 5.5 points under japanese rules. With no handicap, komi 5.5. I guess it's no so strong afterall, actually I guess its very weak. With Igowin I stay around 16-18k.
tderz Luiz, compared with average human club players the computer programs are indeed weak.
Try 19x19! On 9x9 the strength indication is anyway only a rough guess depending fewer moves.
---
wad: Is there a way to plug in the GnuGo engine? And are there any plans for a Linux version?
GnuGo? Yes: http://www.smartgo.com/en/gtp.htm Linux? Perhaps through WINE but seems to have issues: http://support.smartgo.com/default.asp?smartgo.1.75.3
---
ThorAvaTahr: I bought SmartGo in February 2008. At this time (May 2008) I am still often amazed by the great features of this program. The program has exceeded all my expectations and is as far as I know unequalled by any other software package. Must-have for any go player!
Some additional features (not mentioned on the smartgo webpage) are:
- Printing games / Problems / Problem collections, with many options to alter the way it is printed.
- Exporting games / problems / problem collections to pdf.
- Good features for combining go databases: tools for undoubling and removing damaged files, combining many .sgf files or .go files to one sgf file. Compacting database to compressed sgf file. and more
- Excellent database searching features, naturally including (symmetrical) position searches, both full board and local, or just select the grid points you want to search for. But also good searching for players, tournaments, outcomes or even remarks during the games. Anything is searchable.
-Excellent editing, changing mainline, deleting branches, inserting moves! (very convenient feature when entering your own game and suddenly remembering an earlier exchange). Inserting stones (without moves).
- Nice feature: guess the next move, when studying a pro game. (on average I need 4 tries to find the correct pro move :( )
- Many more, the above are only the features that I have used so far.
Drawback: -One missing feature as of version 2.82 is a decent tree view for viewing the game tree. On the SmartGo forum a discussion about this topic was held, Anders Kierulf has expressed his intention to have a new tree view in version 3.0.
---
Alejo A month ago I did a videoreview of this software done with the collaboration of Anders Kierulf, you can watch it here:

Smart Go's Videoreview at

Alejo's Tenuki, or download the video at full resolution for more details. You'll see most of features in function or commented and some tricks you might not be aware of.
Phelan: A nice feature is the ability to enter move numbers in coordinates, and ask smartgo to generate the sgf for that. I think it's pretty good for transcribing paper records.