Alejo
This site was closed as 25th July 2017, due to inactivity of the author (myself, actually), and the lack of feedback from users. The content is partially available through Internet Archives and the videos are still available at youtube.
---
Visit me at:

http://www.alejostenuki.com (the first English videoblog)
Latest updates:
Using Wordpress
Enabled better interface for the mobile version
Improved feeds

Videoreviews:
1.

GnuGo
2.

Panda-glGo
3. SunXi Screensaver.
4.

Kombilo
5.

Many Faces of Go
6.

SmartGo
7.

Universal 3D Chess
8.

Android Applications - Part I: including acego early access 3, koalago, gobandroid and goigo.

Regular reviews:
1.

Taigo for PalmOS
2.

Stone base 4.5
3.

Qgo2 Beta version
Any suggestion? Please, let me know.


---
Hi, I'm a Spanish Go player who just started on Go's World.
5 years ago I bought a Go set on a local gameshop and after a couple of hours trying to "get" the game I gave up. During this summer, for some reason I don't remember, I felt like wanting to play it. It happened to be much easier than expected, mainly because of the help of a page for beginners with java applets (The Interactive Way to Go)
From there I started playing a few games every month, and this is my story on KGS:
may 06: 30k
jun 06: 25k
sep 06 14k
nov 06 11k
aug 07 8k (after a few "sabbatical" months)
aug 08 6k (sabbatical year is still going on...)
somewhere around 2014-2015 2-3k at KGS.
Since it's already 2010 and I'm still "on a sabbatical year", it seems like I'm going to be permanently established around the KGS 6k level.
Interests
-Go
-Strategic board games: Chess, Xianqgi, Shogi, Mancala...
Finally, I received the Excalibur Game Time 2 and started playing with it. I'm still surprised it overpasses my expectations. I'd heard it's noisy, but it's less noisy than when I place a stone on the goban. It's got 10 Go time presets: Japanese: from 30m 1stone/10 seconds to 90m 1st/30s. Canadian: from 30m 5st./30s. to 90m 10st./20m. And the possibility to define another 5 time set. Personally I've added some of the ones I find during online games... I bought it from the USA at

Chess Books from Europe, it costed $36 including shipping to Spain and took 15 days to reach home
---
Preferred Problem
Last nicest problem "unsolved" during real game: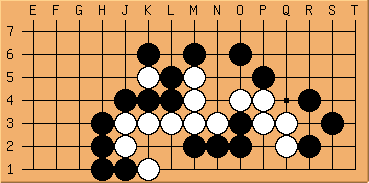 This is extracted from a real-life game where I (black) was trying to kill this white. We didn't have much time, so I couldn't use many minutes to solve it... that's how it went: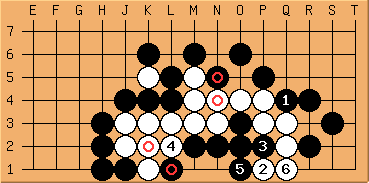 I first played the circled B, so as to erase possible eyespace. In the end Black couldn't kill but white lived "small" and I got quite a nice center influence, which led me into the victory.
Here is the way to seki: /seki
---
Comments
Phelan: Just curious. Was

The Interactive Way to Go the page for beginners with java applets you mention above?
Alejo Yes!!! That's it, I had forgotten the link... I guess half of the people round here learned the same way... lol I'll copy it into my description.
Phelan: I think your video reviews are interesting. How about doing KGS or SunXi Go screensaver next? Oh, I moved my comment and your reply down here, hope you don't mind.
Alejo: I was going to make one about

Kombilo in order to have a "full" software equipment to play and study go. And the next program would have been SunXi's screensaver; but, hey, if someone prefers me to make it about SunXi, I'll be delighted to do so. I'm glad you like it, if you have any interesting ideas I could apply, just let me know (I'd prefer on the blog, but the important thing is the content of the comment, not the place where you make it, so feel free to comment it here too).
rosswerner: Hi Alejo, I love your blog! I saw your comment over on SLoT, and I was wondering if you'd be willing to try out the new version of SLoT that I've put together? I'm looking for lots of feedback so I can improve the software and make it as easy to use as possible. Thanks in advance!
Alejo: Currently my Palm is filled up with Tomtom maps so I don't have much space for it... I'll try it anyway. I was very happy the first time I found how portable this SLoT was.