Shut in
To shut in or to seal in or to fence in or to hem in or to enclose or to surround or to blockade a group of stones: these are flavours of a core aspect of Go, the surrounding game. Mostly, shut in, seal in, fence in and enclose refer to a group which is half surrounded by the opponent, half facing corner or side, moreover in a severe way, whereas surrounded is more general.
A general opening principle is not to allow for your stones to be shut in: avoid being sealed in.
封锁对方棋子,防止对方向外部发展。封在对局中的作用很大,有利于形成自己的势力,攻击、阻止对方发展。
Example 1.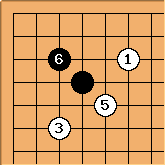 ,

tenuki (see Joseki-related life-and-death example 4 for the continuation).


Example 2.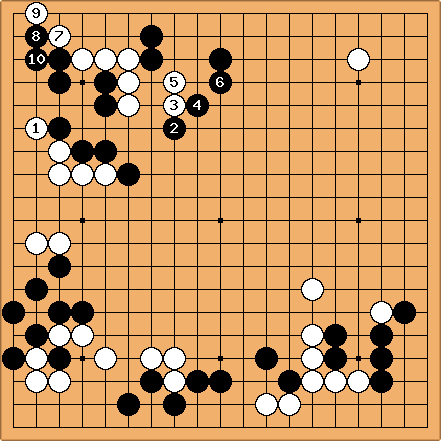 This example comes from a

game between Nakamura Doseki (White), and Hayashi Monnyu.

allows

to seal White's group into the top left corner.


---
Bill: I still think this page needs revision, but I have replaced the example with one based on Zinger's suggestion and one from pro play.
Caern: Explain "

is a tesuji" plz.
Bob McGuigan: is a clever move that is far from obvious since leads to the capture of . But these three black stones are now short of liberties and Black can no longer play at a as a local ko threat. If he does then White plays atari at b and captures the two black stones at and a or the three black stones including by playing atari at c.