Avoid Being Sealed In
Weak groups, and even groups that will not die, should jump out into the centre while they can, assuming there is no good way to develop or connect along the sides. Reasons:
This is a way to gain some liberties
This is a way to connect to the centre, where there are several directions in which to run
In the endgame, such a group will suffer more from sente moves against it than if it were connected to the outside.
This gives a chance to connect to friendly groups
A surrounded group will often have to make defensive plays inside the group, losing points.
This is a way to prevent the opponent gaining too much central influence
Once the group is more settled, there may be opportunities to attack the surrounding groups
There is a related proverb: Jump out once and then make eyes?.[1][2]
Example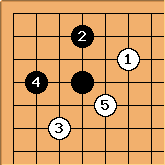 and

do not jump to the center but defend within the corner. Black controls the corner for now, but White gains lots of influence. There is little room for Black to develop. At most, Black gains about nine points of territory, while White faces most of the rest of the board.
Instead of being hemmed in, move in the other direction.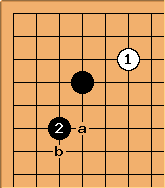 White

approaches the corner, but Black

(or

at a or b) prevents him from being shut in. (Responses to

can be found at 4-4 point low approach.)


---
[1] Is that really a proverb? Says who? [2] Yes. It is said by koreans, (also probably by japanese and chinese)
How about doing a page for it? (The page is already created.)