Farmer's Hat
Term and naming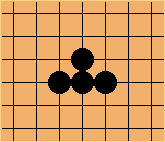 The farmer's hat is a Korean go term adapted into English. It is a shape named by analogy to the cone-shaped straw hat worn by medieval Japanese warriors and later farmers.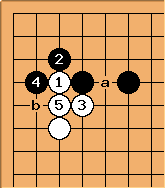 White's shape after

is called jingasa in Japanese, which corresponds to the Korean term (See

here and

here). However, jingasa is also defined as having two empty triangles (see

here ,

here, and The Go Player's Almanac), which this shape does not (

-

-

are a "full" triangle), so there is some uncertainty about whether this example is correct usage.
The farmer's hat as a bad shape
The farmer's hat is essentially an empty triangle with an extra stone added to form a second empty triangle, and bad for the same reasons that the empty triangle is bad.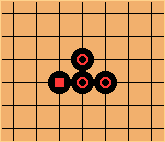 The farmer's hat and in particular its empty triangle(s) is a heuristic to decide for or against variations that end up in such a shape, indicating the move or a prior move is a mistake: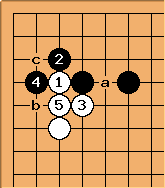 Prior to the AI revolution

was classified as a mistake, and White was thought to either atari at a or make a ko at b.
Since the AI revolution,

is considered the best move locally. The real mistake is rather

which under most circumstances is played at c.
See Farmer's hat/evaluated with KataGo
The farmer's hat as a killable eye shape
The farmer's hat may also refer to the four-space, T-shaped killable eye shape.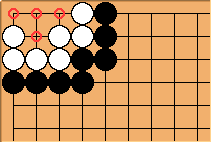 Please refer to pyramid four for this interpretation.
See also