Bamboo joint
The bamboo joint is the name of the shape in the following diagram. 为避免棋子被对方断开,将棋走成四子间隔一路并连起来的形状,俗称"板櫈"。常用于以守为攻的场合。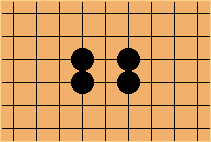 The name, like the 'knuckle' on a stick of bamboo, comes from the strength of the connection. It is normally impossible to cut through it. Note that this shape doesn't normally occur without neighbouring enemy stones. The value of the bamboo joint depends largely on the context See also Dynamic nature of shape.
---
Why is bamboo joint good?
It is hardly cuttable (but not impossible)
It has potential eye shape (but not very much)
It can avoid nasty forcing moves and form lump shapes, in other words, it leaves very little aji in the connection.
---
See also:
---