The one-point jump is never bad
Good advice seldom comes any simpler than this.[1] A one-point jump like

in the diagram below, is very often a good move. There are two obvious arguments in favor of this move: it is not easy to cut this shape successfully (see cutting the one-point jump), and it is a relatively fast way to jump out towards the center. Experiment with it in your games: play one if you really have no idea what else to play.
---
--Stefan
---
taiji : What is the record for ikken tobi plays in professional games? I can't find that information anywhere. Thanks.
---
[1] It is sometimes translated as "A one-space jump is never wrong." This is what Bill Spight says about that translation: "... an overstatement and a mistranslation. ...: A one-space jump is never bad. While still an overstatement, it is more accurate, since a even a good play can be wrong, and a not bad play will be wrong more often than that."
---
Sakata on Shinogi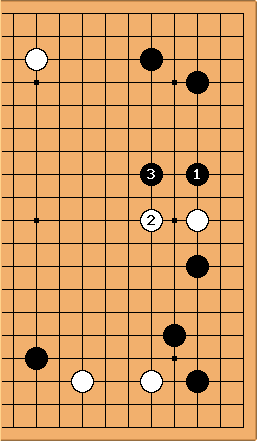 Dave: Sakata no Go is a 6-volume series published in the sixties. Volume 2 is on Shinogi. The first diagram in chapter one is shown here. Sakata writes that regardless of all the proverbs we have to think beyond them in order to get the most out of the specific position. In this case blindly accepting the proverb on this page and jumping to

is exactly what Black is hoping for. It allows Black to build territory in the upper corner while continuing the attack with

.