Cutting the one-point jump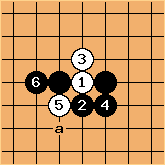 The diagram shows what happens if White cuts the one-point jump in absence of supporting stones. (Black can of course play

at

).

threatens a ladder at a, but Black may well play

differently depending on the board. In general, White will struggle to keep both

+

and

alive.
This is why, in general[1], don't try to cut the one-point jump.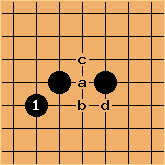 Here, the one-point jump is reinforced by

, and can no longer be cut. (after the sequence a - d White cannot cut)
See also the lion shape.
---
BQM52 has some more information about cutting the one-point jump in connection with walls.
---
[1] here it looks like a good idea to cut the one-point jump

http://www.go4go.net/v2/modules/collection/sgfview.php?id=4900 move 90, also

http://www.go4go.net/v2/modules/collection/sgfview.php?id=3133 move 68