Furikawari
Furikawari, a Japanese go term, means an exchange of potential territories (which may involve quite large groups of stones changing hands, too). In English, furikawari is often translated as exchange.
A ko furikawari occurs when one player ignores a ko threat to win a ko.[1]
---
There are numerous types of exchange that occur in real games.
For example, one player has a large framework, which is invaded by the opponent. Whilst defending his moyo, the player builds up power (influence) which he uses to invade the opponent's territory.
The result afterwards is that the opponent may end up making territory within the original framework, whereas the framework player ends up with the territory originally claimed by his opponent. Of course this is less 'sudden', so that one can speak too of strategic exchanges, exchanges of territory for influence and the other way round.
Example from game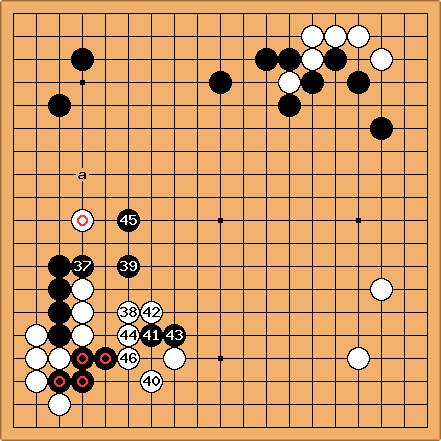 After

at a the exchange of

for a deep framework comprising the whole top left is complete.
Example 2
After

,

trades the corner for a position on the left side and cutting off the

stones on the top side.
---
Example 3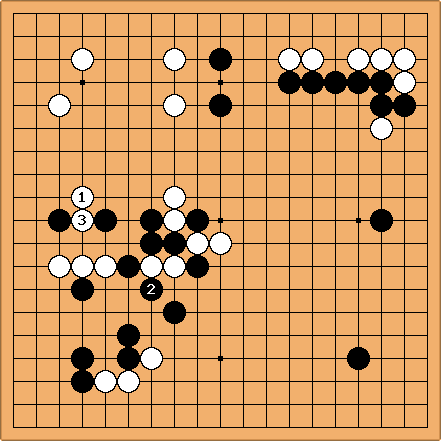 After

, the furikawari of

and

is necessary, according to Go Seigen. From Now I Would Play This Way?, p. 34, by Go Seigen.
---
[1] Or make an approach move in an approach ko.
---
Example 4
A huge furikawari was seen in Sakata Vs Takagawa, |Sakata (7p, White) against Takagawa (7p) in the 1952 Honinbo Challenger Playoff. Takagawa, the underdog in this game, allowed a huge right-side moyo to be killed, in return for taking the left side. He was about 20 points ahead when Sakata resigned. This brilliant game enabled Takagawa to challenge for the Honinbo title, the start of his famous series of nine wins in a row.
See also: