Approach Ko
A ko is called an approach ko if one player must make an approach move in order to convert the ko into a direct ko. In the example below, the ko is an approach ko, because White will have to play at b before White can capture the four Black stones.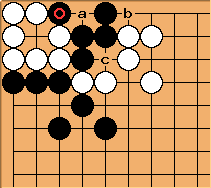 In this diagram, Black and White are involved in a ko fight around the position of the marked black stone and a. If Black wins this ko fight, he can capture the white stones and end the ko, but before White can win the ko fight, she will first have to fill up a liberty at b or c (b is better). Black can then re-take the ko, which will then be fought out the normal way. Thus, White will have to "win" this ko twice to capture the Black stones.
The above example is a one-move approach ko. Going on, if Black had even more liberties we could also get a two-move approach ko, a three-move approach ko, and so on.
White's chances of winning the ko do of course diminish the more often she would have to win it. A two-move approach ko can be considered a reasonable fight, but as the saying goes, A three-move approach ko is no ko.
It is important to distinguish this type of ko from a ten thousand year ko where also a kind of approach move is involved.
The exact phrase for the terms is not agreed upon. The following occur: "indirect ko with 1 approach move", "1-move approach ko", "1-step approach ko", "1-move approach move ko", "1-step approach move ko". Also see the links for yet further variation. (Note: In SL the "step" terminology is deprecated.)
The count of an approach ko depends on the ko threat situation. (More on this kind of position.)
See also:
---
[1] The Japanese term for it is yose-ko; here yose indicates approach, not endgame.