Exchange
Exchanges can be good or bad. Bad exchanges are usually aji keshi, as they use up the aji with little benefit (or none at all). Sometimes it is hard to know whether an exchange is good timing or whether it unnecessarily removes ko threats. Easy to spot exchanges where the first player has the prerogative to make the exchange are called kikashi.
The prime example of an ambiguous exchange - whether

/

is good or not depends on the rest of the board. White's goal is to make

/

a good exchange (do more work with

than Black can do with

).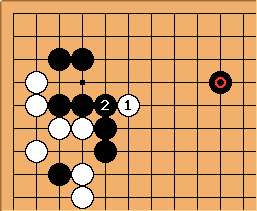 This

/

is a good exchange. White will have little chance to cut at

, and

will help White's next play(s) to reduce/invade the Black formation on the top. It also breaks ladders that may result in contact fights with

.
Here

/

is a good (albeit necessary) exchange for life after

. Without

the Black group is dead (see J group).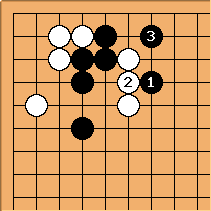 The peep

/

is a good exchange, helping to make the outside stones heavy before connecting under at

. Black will make better use of the wall White gave by invading the corner.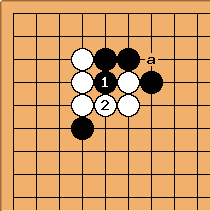 Here

/

is definitely bad. Black loses a liberty and activates a White cut at a, while Black gains nothing and loses a ko threat.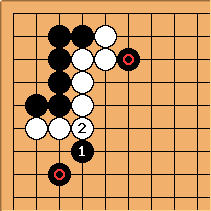 /

is a raw peep. Black makes very little use of the

stones. Cutting at

would have definitely been better.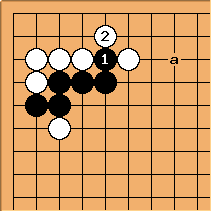 /

is also bad, removing a liberty from Black's stones and giving up the opportunity to play directly at

later, should Black have the good fortune to play at a.
---
Bill: I do not think that the meaning described here is specific to go. Rather, it is an ordinary meaning of the English word. Once again, we have a word with more than one meaning. Why privilege either one?
kb: The Chinese term for exchange (交换) means both and is an ordinary meaning in that language as well. The old page pointed directly to furikawari, which is not the only meaning of the word "exchange" as used in Go. I have no idea whether furikawari is "privileged" in Japanese as per your implied definition. :(
Bill: It is a good idea to add the other meaning of exchange. It was missing from the original page. But why devote this page to only one meaning of the word? Why not give both meanings, and, if necessary, link to other pages that say more? I doubt if furikawari needs its own page. However, your discussion of good and bad exchanges deserves its own page, don't you think? Something like Exchanges -- good and bad? You really are writing an essay, not just explaining a term. :)