Double threat ladder-maker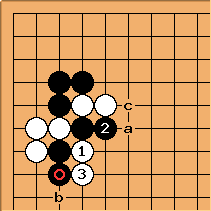 When Black plays

rather than connecting solidly, it gives White the option of

and

to set up two ladders (White at a and White at b). This is a typical crawling fight tactic.
Of course in this case Black may be content to exchange with Black c, White b now.
---
Another example comes up in the tenuki line of the tsukehiki joseki (see 3-4 point high approach, inside contact, tenuki variation).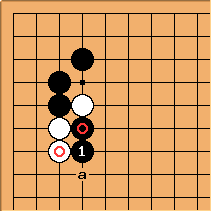 Here

after the

/

exchange depends on a ladder. More exactly White would now like to play hane at a.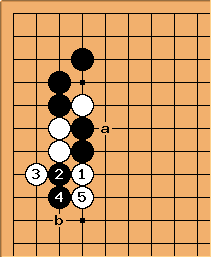 After the cut

, it seems that

is a double-threat ladder-maker, setting up White next at a or b. ( References: Get Strong at Joseki Vol. 1 p18, Ishida Vol. 2 p21 )
There is discussion of follow up moves of this joseki variation at 34PointHighApproachInsideContactTenukiVariation.
---
This is from BQM 15.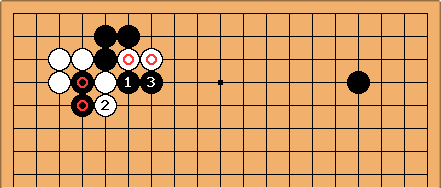 In this case Black is probably happy to exchange the

stones for the

(the reason being that Black earlier made a joseki mistake).


What is said on BQM 15 is this.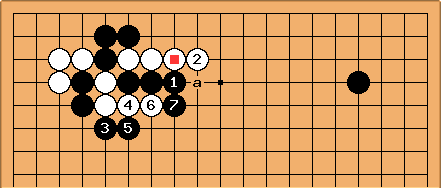 One should add a little more:

here must be answered by White, so that Black has an option of a alternative ladder also. Depending on the precise position in the lower right, this might be important.
Black might have a chance to push once more at a: reading required.
---
See also