Corridor
Go positions that are effectively one-dimensional. They are numbers and infinitesimals in chilled go, in which they are analyzed in terms of combinatorial game theory (CGT).
In the endgame one should (surprisingly) attack shorter corridors before longer ones, as illustrated in Mathematical Go Endgames, § 1.2 (p. 3).
Examples: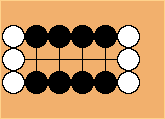 See also
---
(Sebastian:) Besides their use for theoretical considerations, can there anything interesting be said about them for practical play, other than that the bamboo joint is an open corridor?
Bill: The whole point of chilling is practical play. :-) It enables already known results in CGT to be applied to go.